Surviveware Leads Disaster Preparedness with its Tactical Large First Aid Kit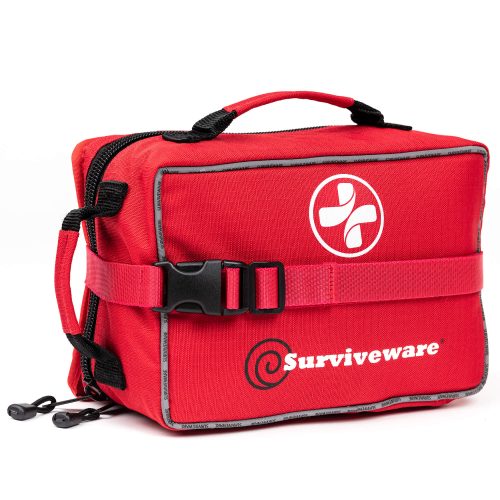 Woodbridge, United States - July 2, 2020 /MarketersMedia/ — Having a reliable first aid kit within reach is as important as learning first aid skills. When an accident or disaster occurs, it is essential to have a kit that can help stabilize injuries while waiting for medical help to arrive, or, if the injury is less severe, a kit that can capably handle treating the wound. This doesn't change no matter where the accident occurs, whether in the backcountry, on the road, at home, or in the field.
Surviveware, maker of high-quality adventure and survival gear, offers a product that fits the unique requirements of outdoorsmen and individuals living in disaster-prone areas: the Large First Aid Kit. Weighing in at 3.4 pounds, this landmark product holds the essential provisions of a comprehensive tactical med kit while providing ample space for additional items.
The medical first aid kit is packed with 200 life-saving items for treating punctures, avulsions, shock, concussions, bruises, sprained or twisted ligaments, contusions, splinters, and insect bites. The kit contains a mini first aid kit that can be hooked to a bag or belt. The mini kit holds 50 first aid supplies so that users need not take supplies from the main kit to replenish it.
Despite holding a plethora of medical supplies, the kit has room for personal first aid or survival items such as cold packs, fire starters, or prescription medication. Extra resealable laminate bags are included to hold these personal items.
A standout feature of this expanded medical first aid kit, which can be purchased on Amazon Prime, is its organized and labeled compartments. All items are stored within the compartments, which are labeled, noting the contents' name, use, and quantity. This feature allows users to quickly retrieve needed items when under pressure, and to better understand the uses of the items.
Surviveware prides itself on its uniquely accessible and flexible packs. This tactical med kit has MOLLE-compatible straps and a snap system that can be used to secure the kit on rucksacks, backpacks, tents, hammocks, and other hooks, bars, or nooks. It also comes with Velcro padding that can be used to keep it secured in one's trunk.
With the worldwide pandemic and natural disasters, it's important to have a reliable first aid kit within reach. Thus, a fully functional and reliable tactical med kit is in order. This was what an Amazon customer realized while looking for a first aid kit for his home:
"I LOVE MY KIT! It's a high-quality pack and has so many great things. I live in an area prone to natural disasters, etc., and I just didn't feel comfortable not having a real 'first aid kit.' This was one of the best finds. This is perfect for camping, hiking, and all that, but it also makes an excellent high-grade first aid kit. So happy I invested in this."
Don't be caught in the middle of a crisis without a medical first aid kit. Order your Surviveware Large First Aid Kit today by clicking here.
Contact Info:
Name: Amanda Condry
Email: Send Email
Organization: Surviveware
Phone: 703-910-5188
Website: https://surviveware.com
Source URL: https://marketersmedia.com/outdoorsman-preps-for-natural-disasters-with-survivewares-large-first-aid-kit/88966412
Source: MarketersMedia
Release ID: 88966412