Ask a yes or no question and 'President Trump' magically speaks the answer in Trump's Actual Voice.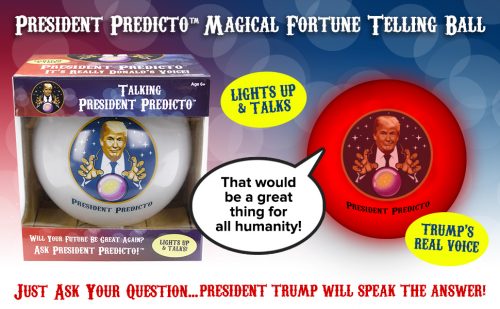 Clearwater, United States - February 4, 2019 /MarketersMedia/ — Political pundits and prognosticators have a new tool at their disposal to predict political races in the upcoming 2020 elections: President Predicto- the magic fortune telling ball that speaks the answer to any YES or NO question. President Predicto™ is an updated TALKING version of the vintage "Magic 8 Ball" with a hilarious twist…the answers are delivered in Donald Trump's real voice.
Jay Kamhi, the founder of Our Friendly Forest, and the creator of President Predicto,™ is excited about the great response to the new novelty toy. "I thought of the idea for President Predicto while watching political news commentators on both CNN and FOX joke about wanting a crystal ball to predict the outcome of political races. So I decided to create one for them," Kamhi states.
Ask President Predicto™ a question and he speaks the answer in Trump's actual voice. There are 25 possible positive, negative or neutral answers. The ball is motion activated by a wave of the hand and plays spooky music and lights up as "President Trump" delivers his answer.
Fans of the original Magic 8 Ball, Ouija Board game, and crystal balls will enjoy President Predicto™! At 3.6" tall & 3.8" in diameter, President Predicto™ is conveniently small, lightweight and can be easily stored in a purse or backpack for on-the-go predictions.
To celebrate its release, Our Friendly Forest is giving away a 20% Off Amazon discount coupon code so that curiosity seekers can experience the magic of President Predicto for themselves. To take advantage of this offer, visit http://bit.ly/2BkvRoP
ABOUT OUR FRIENDLY FOREST
The President Predicto Magic Fortune Telling Ball is a product of Our Friendly Forest, founded by veteran novelty item manufacturer, Jay Kamhi. Our Friendly Forest produces funny, original pop culture toys and novelties that talk, move or light up. The creator of the talking/singing pen, Kamhi got his start over 30 years ago as a NYC street vendor and grew to have his products in many major store chains— including Wal-Mart and Target. Kamhi made his first big splash with the Napoleon Dynamite Talking Doll. Next, Kamhi began creating talking toys based on the outrageous characters from popular TV shows and movies such as Toy Story, Shrek, Family Guy, The Simpsons, Hannah Montana, 40 Year-Old Virgin and many others. In 2015, Kamhi successfully launched his line of funny novelties exclusively on Amazon—increasing revenue to almost two million dollars in one year. Kamhi's Donald Trump Talking Pen became the #1 selling toy on Amazon in 2016, and Kamhi has created another 12 bestsellling novelty items since. Kamhi's products have been seen on national talk shows, including The View and Sean Hannity. All of Kamhi's products can be found in the Our Friendly Forest store on Amazon.com.
Contact Info:
Name: Jay Kamhi
Email: Send Email
Organization: Our Friendly Forest
Phone: 7277761194
Website: http://www.ourfriendlyforest.com
Video URL: https://youtu.be/EiAUV0TnFQE
Source URL: https://marketersmedia.com/our-friendly-forest-releases-president-predicto-talking-magic-fortune-telling-ball-using-president-trumps-real-voice/478013
Source: MarketersMedia
Release ID: 478013