Veteran novelty item manufacturer creates a new Donald Trump gift that's quickly becoming the
most memorable birthday card at the party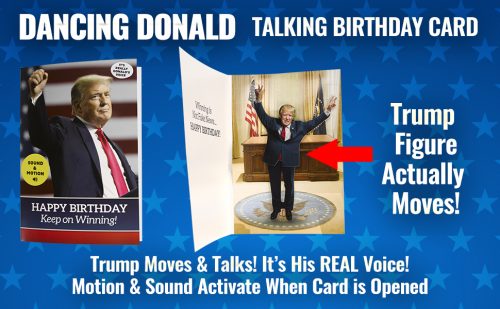 Clearwater, United States - February 4, 2019 /MarketersMedia/ — In the current political climate, Democrats and Republicans agree on very few things—but one thing they do share is their love for greeting cards—and President Trump greeting cards in particular. According to sales figures on Amazon.com, Donald Trump greeting cards are consistently among the top-rated greeting cards. So for all greeting card fans, Our Friendly Forest has created the revolutionary "Dancing Donald Motion and Sound Birthday Card." This talking, moving greeting card features a 3-dimensional figure of President Trump that actually wiggles and sways his hips while talking in Trump's real voice. Democrats and Republicans will enjoy numerous moments of laughter from their special "presidential" birthday greeting. This seriously funny birthday card can be purchased from Amazon.com at a 20% Discount while supplies last. To take advantage of this offer, visit http://bit.ly/2UrCc8K
"The feedback is tremendous," states Our Friendly Forest founder, Jay Kamhi. "People love the idea of giving someone a funny, 3-D birthday greeting with Trump actually dancing in celebration. Plus, it's Trump's real voice. It's such a unique, one-of-a-kind greeting that it's the most memorable birthday card at the party!" Kamhi states.
The "Dancing Donald" Happy Birthday Card utilizes advanced motion technology to deliver a three-dimensional effect of President Trump dancing in the oval office. The high-quality, glossy 6 x 8 inch card includes non-replaceable batteries and is guaranteed play Trump's 20 second recording 20,000 times. It's even backed by a LIFE TIME GUARANTEE.
ABOUT OUR FRIENDLY FOREST
The Dancing Donald Birthday Card is a product of Our Friendly Forest, founded by veteran novelty item manufacturer, Jay Kamhi. Our Friendly Forest produces funny, original pop culture toys and novelties that talk, move or light up. The creator of the talking/singing pen, Kamhi got his start over 20 years ago as a NYC street vendor and grew to have his products in many major store chains— including Wal-Mart and Target. Kamhi made his first big splash with the Napoleon Dynamite Talking Doll. Next, Kamhi began creating talking toys based on the outrageous characters from popular TV shows and movies such as Toy Story, Shrek, Family Guy, The Simpsons, Hannah Montana, 40 Year-Old Virgin and many others. In 2015, Kamhi successfully launched his line of funny novelties exclusively on Amazon—increasing revenue to almost two million dollars in one year. Kamhi's Donald Trump Talking Pen became the #1 selling toy on Amazon in 2016, and Kamhi has created another 12 bestsellling novelty items since. Kamhi's products have been seen on national talk shows, including The View and Sean Hannity. All of Kamhi's products can be found in the Our Friendly Forest store on Amazon.com.
Contact Info:
Name: Jay Kamhi
Email: Send Email
Organization: Our Friendly Forest
Phone: 7277761194
Website: https://www.amazon.com/dp/B07H7TNKD6
Video URL: https://youtu.be/9ezHogD2vdI
Source URL: https://marketersmedia.com/our-friendly-forest-releases-dancing-donald-motion-and-sound-trump-birthday-card-with-3-dimensional-hip-swaying-motion/478006
Source: MarketersMedia
Release ID: 478006