Live on Kickstarter, OTO Jr. introduces three small interlocking blocks for fidgeting, functional use and play.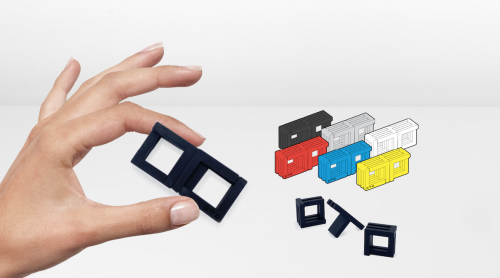 Toronto, Canada - August 15, 2020 /MarketersMedia/ — OTO Jr., the innovative new functional buildable fidget blocks that aim to provide practical support in people's daily lives, is live on Kickstarter and a fully-funded crowdfunding success story.
There are a number of fidget toys on the market that all aim to reduce stress or anxiety, help users focus all while providing a satisfying sensory experience. OTO Jr. is a breakthrough new 3-in-1 functional product for fidgeting, function and play.
"To put it simply, the project was inspired by the importance of play. Play and hands-on creating are often overlooked in our modern-day society, yet so critical to skill-building and mental health," says founder and CEO Laura Amadi on the inspiration behind the project. "We used this as motivation to leverage the OTOblocs system to develop an affordable toy that can help support and inspire creative thinking in the daily lives of children and adults!"
OTO Jr. is made up of three interlocking blocks that resemble two 'O' and one 'T' shape. Together, the products can be built into useful desk pieces including phone, jewelry and photo stands. They can also be combined to create fun shapes as well as be used in games and challenges. OTO Jr. is also a great educational tool which can be used to help children build their STEM knowledge; learning about topics like geometry and architecture. Children and adults alike can take a well-deserved mental break and help their bodies feel more alert by separating, rearranging, and interlocking the blocks in innumerable ways.
OTO Jr. is based on a patented interlocking modular block system making it the only product like this on the market. It measures a fun 5.5 X 2.5 X 1.5 cm as an interlocked unit and is available in 6 fun colors.
"OTO Jr. must exist because it serves a multitude of purposes in our modern world, positively impacting the daily lives of many. From helping you destress as a fidget to supporting you as a phone stand, to keeping your kids busy while they develop skills like spatial reasoning, and learn basic principles of balance, OTO Jr. benefits everyone," adds Amadi.
OTO Jr. - Functional Fidget Blocks is currently live and available to support on Kickstarter: www.kickstarter.com/projects/otojr/oto-jr-functional-fidget-blocks
About OTOblocs
OTOblocs develops products from toys to furniture based on a patented interlocking modular block system. The blocks resemble different letters that can be interlocked with one another in innumerable ways – and just as easily be taken apart. The combination of a structured system and unlimited creative potential results in tools for practical support that encourages play and connection with others and one's environment. Founded in the Summer of 2019 and launched in Summer 2020, OTOblocs is the only company creating products like OTO Jr. - Functional Fidget Blocks based on a patented block system, designed in Canada and made in China from 100% recycled nylon plastic.
For more information on OTOblocs please visit: www.otoblocs.com
###
Contact Info:
Name: Chris Woods
Email: Send Email
Organization: OTOblocs
Website: https://www.otoblocs.com
Source URL: https://marketersmedia.com/oto-jr-functional-fidget-blocks-aim-to-inspire-creative-thinking-through-play-and-building/88972886
Source: MarketersMedia
Release ID: 88972886