Oryx has defied convention in the Dentists market with the release of Oryx Dental Software. For more info, please check https://oryxdentalsoftware.com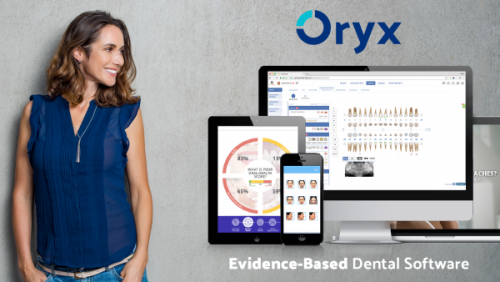 Seattle, United States - October 11, 2018 /PressCable/ —
Oryx, a Seattle-based dental software company, has just launched their newest one-of-a-kind dental practice management platform that aims to redefine the dental industry.
All over the world, dental offices are realizing the importance of digitizing their office tools for a seamless workflow between dentists, team members and patients. One of the challenging obstacles that dentists face is using clunky and outdated software for separate functions to manage the core of their business. The fragmented tools that are being used today are inefficient, and hinder the speed of the office's process. Dental professionals had to accept this reality for the most part, until now. The market in the dental industry has come to a realization that there is a need for a solution which could ease the workflow process, and they have become aware that a platform should exist to make their lives easier, more efficient and ultimately more professional.
Enter Oryx.
Oryx is a revolutionary cloud and evidence based platform that manages dental practices. It is a single, global platform that offers everyone in the dental office peace of mind. Patient engagement tools, a science-based clinical module, automated risk assessment and diagnosis, in addition to billing and advanced reporting all in one place.
Dr. Marc Cooper, DEO Dental Group President says, "This platform has the potential to revolutionize the entire industry and impact every stakeholder – dentists, patients, insurance companies, employers, government, and dental schools. It could be the most disruptive technology to ever hit dentistry."
With patients' growing demand of wanting easier access to their health and dental information, coupled with their need to be involved in the decision making process, Oryx provides a solution by giving them access to its online patient portal, Oral Health Score, where they can view their progress and personal health details.
"As dentists, we want the best for our patients, stay up to date with the latest literature and protocols, while running an efficient and productive practice," Dr. Rania Saleh, Founder and CEO of Oryx, affirms. "Tools are available in the market to help us manage our dental practice but there is no clinical solution and most importantly no evidence-based solutions. This needed to be created."
Oryx was first founded in 2015 under the name of Evidentiae Technologies, LLC, and gained traction in 2016 with its beta version, being adopted by dental offices in several US and Canadian practices.
After a decade as a dentist and private practice owner, Rania's frustrations dealing with multiple software 'solutions' became overwhelming—she knew she had to create something special. It wasn't until she attended courses at the Kois Center, Dr. John Kois' world-renowned center for dental education and advancement, that she realized what was lacking in other dental programs. With Dr. Kois' science-based methodology, and the help of her husband, successful Silicon Valley developer and CTO, Khaled Saleh, and a team of very talented engineers and designers, Oryx was born.
"Dr. Kois has the ability to take the most comprehensive and complex literature and distill it into very easy-to-follow procedures", Dr. Saleh says about the origin of Oryx's procedure checklist.
The platform is a unique solution that covers all aspects of clinical management from diagnosis to treatment plans, and resources for evidence-based literature. It also covers the administrative management aspect by automating tasks and keeping track of productivity and goals, making the office process workflow more efficient and organized.
Dentists can get to know their patients before they walk into their office by allowing patients to fill out their health and dental history. Patients self-assess four areas of oral health: gum health, teeth health, bite and jaw joint health, and smile attractiveness in My Oral Health Score. The automatic clinical reports, combined with good quality images, are also an important factor that will remain in the patient's mind and will motivate them to book their appointments in a timely manner.
The platform is growing and innovative, with a focus on users' feedback and is dedicated to providing full technical support and hundreds of releases per year unlike traditional non-cloud dental software that can only release their new features once or twice a year.
Oryx provides an iPad and iPhone app, and has its own native imaging solutions. To know more about how to get this revolutionary platform, contact Oryx's team directly via email at hello@oryxdentalsoftware.com
Contact Info:
Name: Rania Saleh
Email: Send Email
Organization: Oryx Dental Software
Address: 1001 Fairview Avenue North, Suite 2275 Seattle, Wa, Seattle, Washington 98109, United States
Phone: +1-206-535-1564
Website: https://oryxdentalsoftware.com
Source: PressCable
Release ID: 421930