Autocraft celebrating 41 years of comprehensive Auto Repair Services including General Services, Smog Check, Car, Truck, Fleet and Undercar repair and maintenance. Also, Heating, Cooling, Electronic/Electrical, Transmission, Internal Engine and Heavy-Duty Services. All of this along with great customer care. More information at https://autocraftservices.com/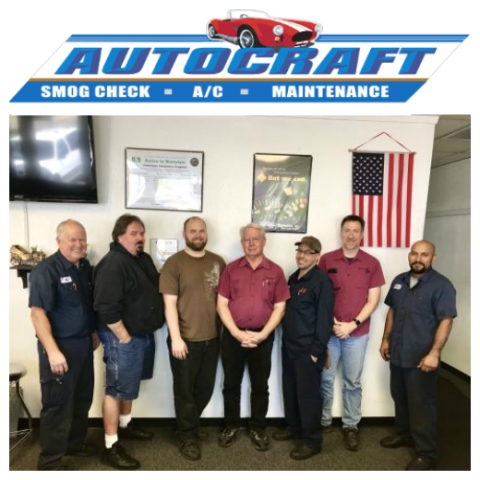 Orangevale, United States - November 16, 2017 /PressCable/ —
Autocraft Services, Inc. is celebrating their 41st year in business. Commemorating 41 sometimes challenging, often difficult and intense, always fulfilling and mainly, worth while, years in business. This is a huge milestone for the 6326 Main Ave, #26 Orangevale, CA. 95662-based General Automotive Repair business, which has provided quality workmanship to Vehicle Owners and Drivers since 1976. Autocraft Repair and maintenance services include General Services, Smog Check, Car, Truck, Fleet and Undercar repair and maintenance. Also, Heating, Cooling, Electronic/Electrical, Transmission, Internal Engine and Heavy-Duty Services. All of this along with great customer care.
Autocraft Services, Inc. got its start in 1976 when founder Ron Bair, while putting himself through college, needed a job that could support himself. Fixing cars has always come naturally to him. Once he began working on cars, he saw a way to make it a life-long career. He decided to leave school and begin this business that would be able to support him and his future family.
One of the earliest challenges Ron faced when starting up his auto repair business was the difficult task of learning how to run a business. Not only providing excellent customer service but, hiring employees, keeping track of bills and taxes, and everything else that comes with running a successful new business. Sometimes proving far more difficult than most would expect.
While every business, of course, faces challenges, some companies like Autocraft Services, Inc. are fortunate enough to enjoy real successes and wins. The goal of AutoCraft Services, Inc. is to provide the highest quality repair and maintenance services around and all at the most competitive prices coupled with great customer care.
Ron Bair, Founder and Owner at Autocraft Services, Inc. was also quoted, when discussing one such win, that, "We have customers that tell us when they come here, they feel like they are part of the family. We want them to feel that way. We try to generate that". Customers throughout the decades have echoed these sentiments. Autocraft Services, Inc.'s Founder, Ron Bair says "We're delighted to be celebrating our 41 Year Anniversary. I believe the secret to success in getting this far in business today is hard work. Every day, putting forth an effort to become a better business. Making the extra effort to take care of the customer, always being honest in all dealings whether it be with the customer, other vendors or businesses, or the state. Keeping up with modern technology and the training to deal with these technological changes. Cars keep changing and improving and so must the technicians that work with them".
Autocraft Services, Inc. currently consists of 6 employees and has big plans for the upcoming year. One of their current core objectives is to build their own building locally in Orangevale, that would allow them to better serve those in the area with repair and maintenance of their vehicles.
Autocraft Services, Inc. would also like to thank friends, customers and all its partners for their well wishes on this exciting occasion.
More information on the business can be found at https://autocraftservices.com/
Contact Info:
Name: Ron Bair
Email: Send Email
Organization: Autocraft Services, Inc.
Address: 6326 Main Ave, #26, Orangevale, California 95662, United States
Phone: +1-916-988-0279
Website: https://autocraftservices.com/
Source: PressCable
Release ID: 265240