Research Analysis on "Global Online Grocery Market 2019" Provides data on how Online Grocery Industry becomes Fastest Growing Market in Global Region with CAGR of 25.7% & Research Report Also Provide How are Players Positioned in Online Grocery in terms of their Front and Back-End?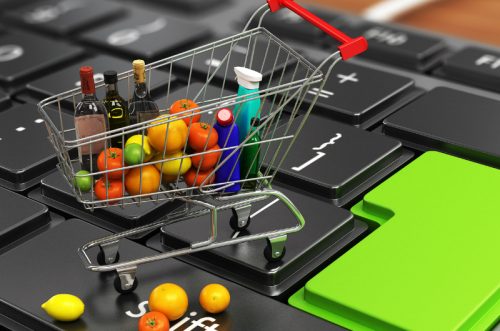 Manhattan, United States - May 20, 2019 /MarketersMedia/ — Online Grocery refers to the purchase of fresh and packaged food through online portals. Ways of buying groceries have evolved over a period of time, owing to easy availability of products through stores and online platforms.
Walmart, Amazon, Kroger, FreshDirect and Target are Top 5 Online Grocery service providers in Global market. The global Online Grocery market is highly competitive and fragmented due to the presence of numerous small vendors in the market. Other prominent players in the market include Tesco, Alibaba, Carrefour, ALDI, Coles Online, BigBasket, Longo, Schwan Food, Honestbee, etc. Based on end uses, the market is segmented into Personal Shoppers and Business Customers. In 2018, Personal Shoppers occupied the largest market share, 70.05%, which is also expected to grow at a higher rate as compared to the Business Customers segment during the forecast period.
Get Latest PDF Sample Copy @ http://www.arcognizance.com/enquiry-sample/374242
Online Grocery Market will register a 25.7% CAGR in terms of revenue; the global market size will reach US$ 84460 million by 2024, from US$ 26910 million in 2019. In particular, this report presents the global revenue market share of key companies in Online Grocery business, shared in Chapter 3.
Online Grocery is expected to be one of the fastest growing categories reaching US$ 84460 million by 2024. Online grocery and FMCG is the next key category of focus for all the large e-tailers. Online grocery habituates the consumer with the frequent purchase thus ensuring the consumers are more accustomed to shopping from the e-tailers. The e-tailers are hence focussing big time on this category. The large verticals, on the other hand, are growing at a rapid pace
To Calculate The Market Size, Considers Value And Volume Generated From The Sales Of The Following Segments:
Segmentation by Product Type:
Breakdown Data from 2014 to 2019 in Section 2.3; and forecast to 2024 in section 10.7.
Packaged Foods
Fresh Foods
Segmentation by Application:
Breakdown Data from 2014 to 2019, in Section 2.4; and forecast to 2024 in section 10.8.
Personal Shoppers
Business Customers
Market Segment by Regions, Regional Analysis Covers:
North America (United States, Canada and Mexico)
Europe (Germany, France, UK, Russia and Italy)
Asia-Pacific (China, Japan, Korea, India and Southeast Asia)
South America (Brazil, Argentina, Colombia etc.)
Middle East and Africa (Saudi Arabia, UAE, Egypt, Nigeria and South Africa)
Order Purchase Copy of Report @ http://www.arcognizance.com/purchase/374242
The Report Also Presents the Market Competition Landscape and a Corresponding Detailed Analysis of the Major Vendor/Manufacturers in the Market. The Key Manufacturers Covered in this Report:
Carrefour
Kroger
Tesco
Walmart
Amazon
Target
ALDI
Coles Online
BigBasket
Longo
Schwan Food
FreshDirect
Honestbee
Alibaba
The Global Online Grocery Market report includes the value chain and stakeholder analysis in the Online Grocery market for the customers to provide key insights into the Online Grocery market. This global report further includes the market outlook for the customers to understand the market from all perspectives and they shall be empowered to make better business decisions in the global Online Grocery market.
Access Research Report @ http://www.arcognizance.com/report/global-online-grocery-market-growth-status-and-outlook-2019-2024
Table of Content:
Chapter One: Scope of the Report:
Market Introduction
Research Objectives
Market Research Methodology
Chapter Two: Executive Summary:
Market Overview
Online Grocery Market Segment by Application
Chapter Three: Global Online Grocery Market by Players:
Online Grocery Sales Market Share by Players 2016-2019
Online Grocery Sale Price by Players
Competition Landscape Analysis
Chapter Four: Online Grocery Market by Regions:
Online Grocery by Regions
Global Online Grocery Value by Regions
Chapter Five: Americas:
Americas Online Grocery Market Consumption by Countries, Consumption by Type & Application
Key Economic Indicators of Few Americas Countries
Chapter Six: APAC:
APAC Online Grocery Market Consumption by Countries, Consumption by Type & Application
Chapter Seven: Europe:
Online Grocery Market Consumption by Application, Consumption by Type
Key Economic Indicators of Few Europe Countries
Chapter Eight: Middle East & Africa:
Middle East & Africa Online Grocery Market by Countries by Application, Consumption by Type
Key Economic Indicators of Few Middle East & Africa Countries
Chapter Nine: Online Grocery Market Drivers, Challenges and Trends:
Online Grocery Market Drivers and Impact
Online Grocery Industry Challenges and Impact
Market Trends
Chapter Ten: Marketing, Distributors and Customer:
Direct Marketing
Indirect Marketing
Online Grocery Distributors
Online Grocery Customer
Chapter Eleven: Global Online Grocery Market Forecast:
Online Grocery Consumption Forecast (2019-2024)
Online Grocery Value Forecast by Regions (2019-2024)
Global Online Grocery Forecast by Application
Chapter Twelve: Online Grocery Market Key Players Analysis:
Sensus
Company Details
Online Grocery Sales, Revenue, Price and Gross Margin (2016-2019)
Online Grocery Product Offered
Chapter Thirteen: Research Findings and Conclusion on Online Grocery Market
Get More Information on "Global Online Grocery Market" @ http://www.arcognizance.com/enquiry-sample/374242
Trending Topics:
Drones in Travel and Tourism Market Analysis 2024 Companies Involved, Key Trends, Technologies Used, New Innovation, Growth Factor & Future Growth @ https://www.reuters.com/brandfeatures/venture-capital/article?id=107962
About us:
www.arcognizance.com is an initiation in this new era of "analysis @ thought." We are on a mission to replace the conventional research programs and give way to the latest methods and information for the organizations. We have created this hub of analytical research papers where you can get an access to the latest and the best research papers coming out from some reliable and budding research houses. After the advent of "new analytics" based on the data collection facilities of big data, the face of "business research facilities" has changed drastically. With ARC our experts have created a bookshelf where you can check out the research reports that are an outcome of the progression of knowledge in various industry sectors.
Contact Info:
Name: Matt Wilson
Email: Send Email
Organization: Analytical Research Cognizance
Address: 100 Church Street, 8th floor, Manhattan, New york, 10007
Phone: +91 90967 44448, +1 (646) 434-7969
Website: http://www.arcognizance.com/report/global-online-grocery-market-growth-status-and-outlook-2019-2024
Source URL: https://marketersmedia.com/online-grocery-industry-2019-global-market-size-share-demands-future-growth-opportunity-regional-analysis-by-key-market-players-growth-cagr-257/514805
Source: MarketersMedia
Release ID: 514805