Numero Uno Web Solutions advises Canadian businesses that dedicated web sites are now a must, especially considering future projected online sales.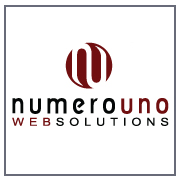 Toronto,, Canada - - July 24, 2014 /MarketersMedia/ — Numero Uno Web Solutions (NumeroUnoWeb.com), a fast-growing Internet marketing firm that caters to small- and mid-sized business-to-business (B2B) and business-to-consumer (B2C) companies, is declaring that Canadian businesses need to have a dedicated web site; especially in light of data that show B2C e-commerce sales are projected to climb 92% between 2013 and 2017.
"With more than 80% of the Canadian population online, business owners may want to reconsider the value of a web site," says Dave Wheeler, president and general manager of Numero Uno Web Solutions. "Last year, e-commerce sales were up 17% year-over-year at $21.61 billion. And in 2017, e-commerce sales are projected to hit more than $41.0 billion; that's a 92% increase over 2013." (Source: "B2C e-commerce sales in Canada from 2012 to 2017," Statista.com, July 2014; www.statista.com/statistics/241392/forecast-of-b2c-e-commerce-sales-in-canada/.)
Unfortunately, Canadian businesses are not prepared to handle the expected influx of online sales over the coming years. Less than half of Canadian small businesses (46%) have a dedicated web site and just 48% of those businesses say they sell their products and services online. Among those who do have a dedicated web site, 38% reported that at least a quarter of their total revenues come from online sales. (Source: "The Internet remains uncharted territory for Canadian businesses: RBC poll," RBC web site, February 27, 2013; www.rbc.com/newsroom/news/2013/20130227-smallbus-tech.html.)
Wheeler explains that it can be challenging for Canadian businesses to stay on top of new technologies and find the time to run a dedicated corporate web site. However, having a dedicated business web site and online marketing strategy is essential for brands looking to increase their market share and grow profitability.
"One of the best reasons for having a corporate web site is that it provides access to potential customers 24/7. This is increasingly important when considering that almost 28% of Canadians say they prefer to shop online rather than go to a mall," he adds. "One of the best ways to increase online traffic and make businesses more visible and discoverable on search engines like Google is with a strategic online marketing campaign."
"Businesses looking to develop an online marketing strategy or brands looking to enhance their current campaign need to hire an Internet marketing firm with a proven history of making web sites discoverable online, attracting qualified traffic, and turning visitors into repeat customers," Wheeler concludes.
Numero Uno Web Solutions is one of the top Internet marketing firms due to constant innovation and overall customer satisfaction. For more information on Numero Uno Web Solutions, and to discover how it can help maximize a company's search engine optimization and online presence, visit http://numerounoweb.com/sitescore/ or call Numero Uno Web Solutions toll-free at 1-855-SEO-XPRT (1-855-736-9778).
Contact Info:
Name: Dave Wheeler
Organization: Numero Uno Web Solutions Inc
Address: 7000 Pine Valley Drive, Suite 200, Woodbridge, Ontario L4L4Y8 Canada
Phone: 905 856 2012
Source URL: https://marketersmedia.com/numero-uno-says-canadian-businesses-need-dedicated-sites-online-sales-expected-to-double/55830
For more information, please visit http://www.numerounoweb.com/
Source: MarketersMedia
Release ID: 55830