The Doomsday Survival Formula blog released a new nuclear attack survival guide with everything people need to know if they want to keep their family safe from the blast and the fallout.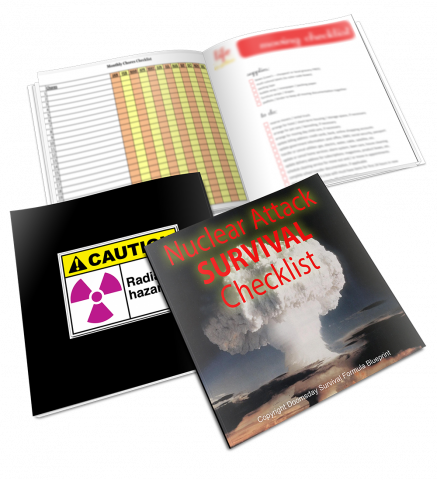 Huntsville, United States - June 2, 2018 /PressCable/ —
The famous disaster preparedness blog Doomsday Survival Formula has released a new guide with tips, recommendations and a detailed checklist on how to survive a nuclear attack and keep the family safe after the blast.
More information is available at https://doomsdaysurvivalformula.com/blog.
The Doomsday Survival Formula is a famous disaster preparedness blog with free reports, guides and checklists for everyone who wants to know how to survive and keep the family safe when a disaster hits.
For those who are concerned about the possibility of a nuclear attack and how they'll be able to keep the family safe when it happens, the blog has just released a new "Nuclear Attack Survival Checklist" guide.
The free guide starts with some important facts and myths about nuclear attacks, including exactly how many miles a nuclear bomb can cover and what the true impact throughout the fallout radius would be.
It also goes into detail on some specific scenarios like how far it would travel if it hit Washington D.C. and some of other main cities that would likely be targeted.
Then, it details what the plan for survival should be, what a nuclear survival kit should look like and what to have prepared in terms of food, water, self defense, energy sources, first aid and shelter to survive after the blast.
This includes in depth explanations on what kind of underground fallout shelter the family should be looking at, how long the food and water have to last after the blast and what the most appropriate medical supplies and self defense items to have at hand are.
The new guide is available completely free of charge and joins the wide variety of survival and preparedness resources its founder and disaster relief expert Jay Christian has compiled for tsunamis, hurricanes, tornados, earthquakes and even volcanic eruptions.
To get this free "Nuclear Attack Survival Checklist" guide and see all the other disaster preparation guides, tips and recommendations the Doomsday Survival Formula blog offers, the public can visit their website at the link provided above.
Contact Info:
Name: Jay Christian
Organization: Doomsday Survival Formula
Address: 1423 Beeghley Street 142, Huntsville, Alabama 35816, United States
Phone: +1-646-844-4908
Website: http://DoomsdaySurvivalFormula.com/blog/
Source: PressCable
Release ID: 354969