A new drug-free stick-on patch helps people fall asleep and stay asleep. This one-of-a-kind technology is helping solve one of the oldest problems in the world.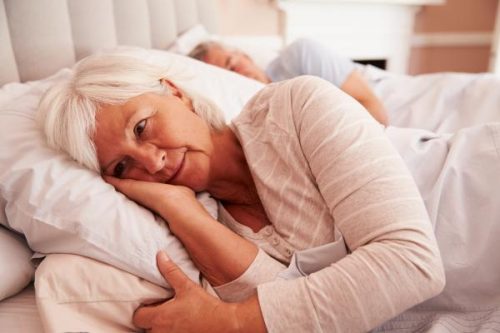 Austin, United States - May 18, 2020 /PressCable/ —
How many times did we hear that when we were growing up or perhaps even screamed it at our kids? But for some people it's easier said than done.
Millions suffer with sleep issues every night. Whether it's having trouble falling asleep, staying asleep or the quality of their sleep, they struggle. If you don't get a good night's sleep there can be a lot of ramifications.
Concentration at work, or school, or even driving can suffer. If you're recovering from an injury or an illness, sleep is when the body rebuilds.
A unique new technology is raising some eyebrows and lowering some eyelids. It's drug-free, non-invasive, and truly one-of-a-kind. According to Stan Esecson, VP Voxxlife, "It's a patch. It's about 1.5 inches square and you simply peel and stick it on your upper arm. It looks like a band-aid. If you look closely you'll see an embossed pattern of a fingerprint. Out tactile technology is hidden in the fingerprint. The pattern triggers a neuro-response in the areas of the brain that control sleep, it's fascinating. We see it in QEEG brain scans."
There's nothing more frustrating than tossing and turning all night. Millions of Americans can't get enough sleep. While the problem can be particularly troublesome for adults over 65, it affects people of all ages.
Some are taking prescription sleeping pills. Others say they've tried everything from CPAP, to new pillows, to warm milk and even counting sheep. For most, the problem persists.
The patch uses a variation of the Human Performance Technology pattern (HPT) that's integrated into other Voxx products that have been shown to improve balance, strength and range of motion.
Esecson continued, "We're thrilled to be able to provide this powerful new tool to help you sleep, which improves their quality of life. Numerous studies are underway to help better understand this unique product. When someone gets hooked on sleeping pills the results can be tragic. Our solution is totally natural, and drug free."
How important is sleep?
"Quality, quantity of sleep and the ratio of the stages of sleep are important aspects of reducing stress, improving mood and providing lots of energy," the Functional Aging Institute says. "Lack of sleep and increased stress go hand in hand."
The National Sleep Foundation adds, "Not only will getting your zzzs help you perform, learn a new skill or help you stay on task, but it may also be a critical factor in your health, weight and energy level."
Esecson continued, "The brain is the biggest mystery in the universe. Ask any Neurologist, they're the first to admit how much we don't know about the brain. Rempatch is such a simple solution. You simply stick one on your arm then go to sleep. Due to the disruption of the global supply chain and manufacturing, Rempatch is currently available in very limited quantities.
>For more on how Voxx products are helping millions, go to www.SeeOurPatchInAction.com
>Press inquiries — Stan Esecson, 949.547.1683, Ynrstan@gmail.com
www.SeeOurPatchInAction.com
Contact Info:
Name: Stan Esecson
Email: Send Email
Organization: SeeOurPatchInAction.com
Address: Box 340836, Austin, Texas 78734, United States
Website: http://SeeOurPatchInAction.com
Source: PressCable
Release ID: 88957745