MBF-Lifestyle East Coast, an art and lifestyle site based in Toronto, has officially moved to La Baie Ste Marie Nova Scotia bringing with it one of the biggest and most interesting privately owned Nova Scotia artwork collections in all of Atlantic Canada.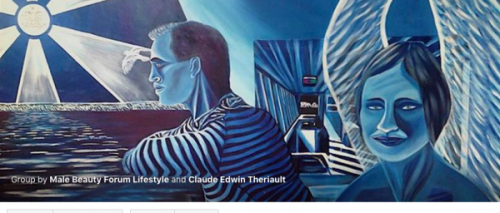 Yarmouth, Canada - April 19, 2018 /PressCable/ —
Forty year absence due to busy with Toronto, Ontario-based, MBF-Lifestyle East Coast, a site devoted to art culture and lifestyle, is finally coming to La Baie Ste Marie Nova Scotia May 1 2018. Hence the need to launch a Web News Press Release dedicated to the cultural artworks of Nova Scotia French Acadian artist Claude Edwin Theriault.
More trending news updates and related cultural information is available at https://malebeautyforum.com/frenchacadianculture.html.
With an art work history that spans over some 40-years, Theriault produces works that capture esoteric inspired design strength and Shamanic visual power. The few who have actually seen the paintings themselves have said this artist works bring together the real and ethereal, as well as the physical and metaphysical.
The numerous Web 2.0 properties of the artist, help expand what French Acadian Culture is now and tell the reader more about the artist Claude Edwin Theriault, and his return to his native home in Maude Lewis land of South West Nova Scotia. The arrival of this artist's work to Nova Scotia is monumental to the local cultural art scene; and represents a unique opportunity for lovers of French Acadian artwork.
The MBF-Lifestyle East Coast art reproduction site https://www.artmajeur.com/malebeautyforum has the art of this non mainstream French Acadian artworks. As well as the unique capacilty to get reproduction copies printed on canvas or a laminate of various sizes to fit the purchasers needs and budget, with remarkable Wall Art friends will notice and comment instead of regular dull mainstream home decor.
Also, the web 2.0 sites provide links to the various works of Claude Edwin Theriault. From oil on canvas, oil on masonite, wood carvings, works on paper, etchings, silkscreen, lithographs and numerous pencil and ink drawings that truly depict the creative process that goes into the making of his work a fresh variation on French Acadian culture.
Looking to establish the diverse collection of this artist, MBF-Lifestyle East Coast, proudly presents Claude Edwin Theriault's work, being part of and contributing to the changing trends and mindset in 2018 and beyond. Creating a visual provenance, MBF-Lifestyle East Coast making it both the wall art and interior design trend to watch this year….
Interested parties can keep informed of Theriault's curated Lifestyle content by joining the group of friends and becoming part of the family at https://www.facebook.com/groups/MaleBeautyForumLifestyle/
When asked about Claude Edwin Theriault's style, one critic said, "This artist creates French Acadian Culture representations beyond the standard heritage/patrimonial norms. Inspired by Folk Art then First Nations his recent painting mostly use male nudes and animal totem figures, to create the visual narrative; so that Claude Edwin Theriault can create symbolist narratives in post zero-point 2012 culture that are beyond the mainstream."
To find out more about MBF-Lifestyle East Coast and artist Claude Edwin Theriault, visit the link above or view AGNS curated art content at 341 Main Street, Yarmouth Nova Scotia.
Contact Info:
Name: Claude Edwin Theriault
Email: Send Email
Organization: Claude Edwin Theriault
Address: 340 Main Street, Yarmouth, Nova Scotia B5A 1E7, Canada
Website: https://www.artmajeur.com/malebeautyforum
Source: PressCable
Release ID: 331062