North America Attapulgite Market value exceeded USD 93 Million in 2017 and is expected to rise at a CAGR of over 7.9% from 2018 to 2024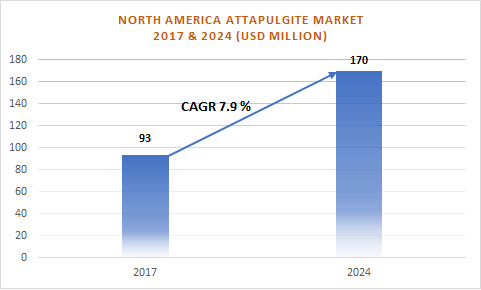 India - October 11, 2019 /MarketersMedia/ — According to the Graphical Research new growth forecast report titled "North America Attapulgite Market analysis based on Product, End-User, Industry Analysis Report, Regional Outlook, Application Development Potential, Price Trends, Competitive Market Share & Forecast, 2017 – 2024", estimated to exceed USD 170 million by 2024. Upsurge in agricultural activities in the U.S. owing to significant population growth coupled with ease in trade regulations related to exports and this will further bolster the regional agrochemicals demand. The agrochemical sector in the U.S. alone is expected to grow with a decent CAGR of 4.5% till 2022 due to increasing agricultural income and rising demand to improve soil health so that field productivity can be increased to satisfy growing food demand. Attapulgite is used as a carrier for powdered and granular agrochemicals besides this it is also used in improving properties of sand rich soils. This trend will continue and propel the North America attapulgite market growth in coming years.
Request for a sample of this report @ https://www.graphicalresearch.com/request/1026/sample
On the basis of product, attapulgite market is classified into colloidal and sorptive grades. Sorptive grades are widely used in agrochemicals, floor absorbents, anti-caking agents, chromatographic absorbents, animal feeds, vegetable oils as well as in petroleum refining. This segment shows a decent growth with almost 2% CAGR over the forecast spell.
On the basis of application, attapulgite is used in various industries such as agriculture, oil & gas, paints & coatings, cat litter absorbents and others. The others include paper, cosmetics and other industries. Oil and gas segment shows the growth rate of almost 2% in the future. This pertains to increase in drilling activities due to rise in oil exports from the U.S. Such trend is projected to follow and will upsurge the product market growth in forecast timeframe.
The key players in the attapulgite market are Halliburton, Active Mineral International LLC, Oil-Dri Corporation of America, Jaxon Filtration, Gujarat Multi Gas Base Chemical Private Limited, MinTech International Inc
Browse key industry insights along with Table of Content @ https://www.graphicalresearch.com/industry-insights/1026/north-america-attapulgite-market
Segments we Cover:
Attapulgite Market Statistics by product
Colloidal grade
Sorptive grade
Attapulgite Market Trends by End-user
Cat litter absorbent industries
Oil and gas
Agriculture
Paints & coatings
Others
About Graphical Research:
Graphical Research is a business research firm that provides industry insights, market forecast and strategic inputs through granular research reports and advisory services. We publish targeted research reports with an aim to address varied customer needs, from market penetration and entry strategies to portfolio management and strategic outlook. We understand that business requirements are unique: our syndicate reports are designed to ensure relevance for industry participants across the value chain. We also provide custom reports that are tailored to the exact needs of the customer, with dedicated analyst support across the purchase lifecycle.
Contact Info:
Name: Parikhit B.
Email: Send Email
Organization: Graphical Research
Website: https://www.graphicalresearch.com/industry-insights/1026/north-america-attapulgite-market
Source URL: https://marketersmedia.com/north-america-attapulgite-market-is-projected-to-showcase-significant-growth-from-end-user-segment/88927386
Source: MarketersMedia
Release ID: 88927386