North America Ambulatory Surgical Centers (ASCs) Market size was valued at USD 26.9 billion in 2017 and is expected to witness 4.8% CAGR from 2019 to 2024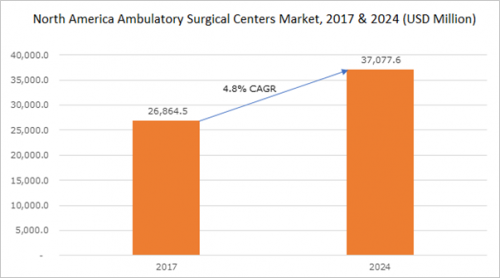 India - November 21, 2019 /MarketersMedia/ — Increasing geriatric population will act as high impact rendering factor in ambulatory surgical centers market growth. Geriatric people are more prone to suffer from several diseases due to anatomic and functional changes. As per the World Population Prospects data elderly patient base aged 60 years and above is projected to double and triple by 2050 and 2100 respectively. Additionally, rising prevalence of chronic diseases among elderly will upsurge ambulatory surgical centers industry growth over the forecast period.
Request for a sample of this report @ https://www.graphicalresearch.com/request/1144/sample
According to the Graphical Research new growth forecast report titled "North America Ambulatory Surgical Centers Market Size By Surgery Type (Dental, Otolaryngology, Endoscopy, Obstetrics/Gynecology, Ophthalmology, Orthopedic, Cardiovascular, Neurology, Plastic, Podiatry), By Ownership (Physician Only, Hospital Only, Corporation Only, Physician & Hospital, Physician & Corporation, Hospital & Corporation), By Specialty Type (Single-specialty, Multi-specialty), By Service (Diagnosis, Treatment), Country Outlook (U.S., Canada), Industry Size, Share, Growth Trends & Forecast, 2018 – 2024", estimated to exceed USD 35 Billion By 2024
Growing demand for minimally invasive treatment will boost business growth. Advantages offered by minimally invasive procedures include, shorter hospital stay, less pain, injury to tissue, scarring and more accuracy. Furthermore, ambulatory surgical centers offering advanced surgical technology that is minimal or non- invasive will favor revenue growth. Such services being offered by certified associations in ambulatory surgical centers will further propel industry growth.
Physicians only segment dominated ambulatory surgical centers market with a revenue share of more than 50% in 2017. Cost effectiveness associated with the treatment provided at physician owned ambulatory centers increases its preference among geriatric population that have comparatively low-income levels thereby augmenting the business revenue.
Ophthalmic surgery segment was valued more than USD 4.9 billion in 2017 and is augmented to grow during the forecast period. Segment growth can be attributed to increasing number of cataract surgeries performed in ambulatory surgical centers (ASCs). Increasing prevalence of diabetes leading to ophthalmic diseases will further boost the segmental growth.
Single-specialty segment will witness 4.9% CAGR during the forecast period owing to cost-effective procedures offered by single specialty ambulatory surgical centers. Moreover, minimum resources required in the single specialty ambulatory surgical centers will fuel business revenue during upcoming years.
Treatment segment is estimated to grow significantly with revenue of more than USD 28 billion by 2024. Segment growth is attributed to growing demand for high quality care at affordable cost. Increasing patient demand for advanced treatment and rising healthcare expenditure will further foster business growth.
U.S. ambulatory surgical centers market will grow over 4.5% throughout analysis period. Growing demand for ambulatory surgical centers coupled with advancements in technology will favor the U.S. business growth. Availability of minimally invasive treatments along with favorable reimbursement policies will positively impact industry growth. Additionally, better safety and quality care in ambulatory surgical centers will augment business growth.
Few of the prominent players in ambulatory surgical centers market include ASD Management, AmSurg, Covenant Surgical Partners, Ambulatory Surgical Centers of America, Physicians Endoscopy, HCA Healthcare, SurgCenter Development, Surgery Partners, Regent Surgical Health, Surgical Care Affiliates, Proliance Surgeons, Tenet Healthcare and Surgical Management Professionals. Industry players are taking numerous initiatives to acquire higher market share and strengthen its market position. For instance, in April 2018, Tenet healthcare purchased 95% ownership of USPI. Thus, increasing the number of ASCs throughout the U.S. will help in enhancing business growth of the company.
Browse key industry insights along with TOC @ https://www.graphicalresearch.com/table-of-content/1144/north-america-ambulatory-surgical-centers-market
Report Content
Chapter 1.Methodology & Scope
Definition and forecast parameters
Definitions
Methodology and forecast parameters
Data sources
Secondary
Primary
Chapter 2.Executive Summary
North America ambulatory surgical centers industry 3600 synopsis, 2013 – 2024
Country trends
Ownership trends
Surgery type trends
Specialty type trends
Service trends
Chapter 3.Industry Insights
Industry segmentation
Industry landscape, 2013 - 2024
Major factor analysis
Drivers
Increasing geriatric population & burden of chronic diseases
Availability of minimally invasive treatments
Favorable reimbursement and government policies
Industry pitfalls and challenges
High costs of medical devices
Low physician-to-patient ratio
Porter's analysis
Competition review, 2017
PEST analysis
About Graphical Research:
Graphical Research is a business research firm that provides industry insights, market forecast and strategic inputs through granular research reports and advisory services. We publish targeted research reports with an aim to address varied customer needs, from market penetration and entry strategies to portfolio management and strategic outlook. We understand that business requirements are unique: our syndicate reports are designed to ensure relevance for industry participants across the value chain. We also provide custom reports that are tailored to the exact needs of the customer, with dedicated analyst support across the purchase lifecycle.
Contact Us:
Parikhit B.
Corporate sales,
Graphical Research
Email: sales@graphicalresearch.com
Web: https://www.graphicalresearch.com
Contact Info:
Name: Parikhit B.
Email: Send Email
Organization: Graphical Research
Website: https://www.graphicalresearch.com/industry-insights/1144/north-america-ambulatory-surgical-centers-market
Source URL: https://marketersmedia.com/north-america-ambulatory-surgical-centers-market-to-perceive-substantial-growth-of-35bn-during-forecast-2024/88935301
Source: MarketersMedia
Release ID: 88935301