New home or office study program teaches everyone the tactical decisions and actions everyone can take to increase their odds of surviving and in some cases even take down an active shooter even if they don't have a gun.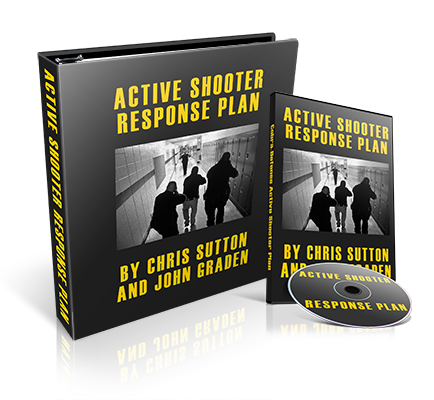 Clearwater, FL,, USA - - December 3, 2013 /MarketersMedia/ — Despite the chaos in an active shooting attack there are specific tactical steps that someone can take to drastically reduce casualties and sometimes even bring down the active shooter even without a gun. The new Cobra-Defense Active Shooter Response Plan is a home or office study package that shows an actual active shooter response seminar being taught to a group of untrained adults and children. It's a class population that would be similar to an elementary school like Sandy Hook.
The program was created by Chris Sutton of Clearwater, FL. Sutton is a former street cop, sheriff, and maximum security prison guard. Sutton says, "Schools have fire drills and lockdown drills, but very few have an active shooter drill. We hope to change that."
The Department of Homeland Security defines an active shooter as an individual actively engaging in killing or attempting to kill in a confined and populated area.
Attorney General Eric Holder recently said the number and the lethal nature of active-shooter incidents nationwide has soared over the past five years.
In remarks to the nation's police chiefs in Philadelphia, Holder said the United States saw an average of five active shooting incidents a year between 2000 and 2008. "Alarmingly, since 2009, this annual average has tripled. We've seen at least 12 active shooter situations so far in 2013."
Indeed, with the tragic active shootings at Newtown, the Navel Yard, and the Westgate Mall, active shooter awareness is at an all-time high. Still, not every organization or individual has access to active shooter response training. Sutton hopes this program will help fill that void.
This home or office study course can be used to train people of all ages such as teachers, principals, security personnel, church leaders or security minded individuals who want their family to have this training.
Sutton says, "Every school, workplace or church that has had an active shooting thought it would never happen to them. Newtown, Virginia Tech, and Columbine never thought it would happen there either. I hope organizations will use what is taught in this program as part of their annual training. What we teach in this program is not difficult. You just have to know what to do and how to do it. That kind of knowledge saves lives."
3-Minute Preview Video: http://tinyurl.com/kfawz2j
Contact Info:
Name: John Graden
Organization: Cobra-Defense System
Address: 24103 U.S. Highway 19 North, Clearwater, FL 33763
Phone: 727-644-3384
Source URL: https://marketersmedia.com/new-program-shows-everyone-how-to-survive-an-active-shooter-attack/27557
For more information, please visit http://www.activeshooterseminar.com/products/
Source: MarketersMedia
Release ID: 27557