The (patent pending) Tornado Reinstatement Cutter is a revolutionary plumbing tool designed by Hurricane Reinstatement Solutions. Reinstatement cutters will never be the same after the launch of this tool.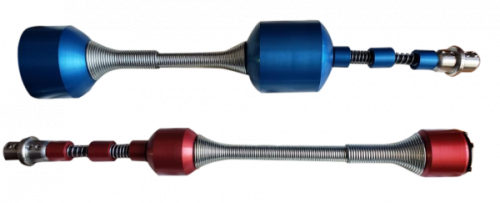 Tucson, United States - February 13, 2019 /PressCable/ —
Certain inventions that are created for a specific industry can be extremely beneficial to the people that would need to use an invention like this. The invention of the Tornado Reinstatement Cutter (patent pending) is a shining example of that. Although there are several reinstatement cutters available today, the functions that this cutter has are beyond comparison. It is almost like cracking the code to a new experiment that will help thousands of plumbers around the world.
Mike Gesty, the owner and founder of Spartan Plumbing, Heating & Cooling came up with this unique idea of taking reinstatement cutters to the next level. And, with the launch of the Tornado Reinstatement Cutter, he has successfully broken all barriers that limited the functions of such cutters. There are a host of features that come along with the Tornado Reinstatement Cutter. Interested users can get it at Hurricane Reinstatement Solutions. Some of the best parts about this patent pending cutter is that it speeds up the reinstatement process, has different sizes available all with the same reliability and will reinstate cast iron, PVC, clay and steel pipe.
It is not just the dimension that has been changed. Mike Gesty has also worked on several other functions to make the Tornado Reinstatement Cutter a comprehensive unit. Surprisingly, this cutter has the ability to make an oval hole in all sorts of pipes with little or no sanding. Compared to its predecessors, this one has been a game-changer. Also, the reinstatement cutters that were used previously took almost 15 to 45 minutes to complete the reinstatement process. The Tornado Reinstatement Cutter does that same job in just 15 to 30 seconds.
There was another issue that most of the users faced while plumbing; the reinstatement cutters cut through plastic (PVC) pipes and so they had to be extra careful when they worked around these pipes. However, that drawback has been investigated and fixed by Mike Gesty. Plumbers can now use the Tornado Reinstatement Cutter without the fear of cutting through plastic, wet or dry. The patent pending T.R.C can be used on wet pipes or dry pipes.
What's even more interesting is that the length of reinstatement can reach up to 70 + feet long and it will take less than a minute to complete the job. Also, the unique feature of traversing through multiple fittings without having to cut down the power is simply amazing. When plumbers have a single tool that can do over 40 reinstatements, it can be safely said that this cutter is far ahead of its competitors. This tool can be used by novice plumbers or a master plumber without classes or specialized training.
Hurricane Reinstatement Solutions and Spartan Plumbing, Heating & Cooling will be at the Wet Show taking place February 20-23, 2019 at the Indiana Convention Center. The team will be in booth #1115 showing demonstrations of the Tornado Reinstatement Cutter.
About Spartan Plumbing, Heating & Cooling: Mike Gesty has always looked for innovation in his work, and with the launch of the Tornado Reinstatement Cutter, he's achieved this lifelong goal.
Spartan Plumbing, Heating & Cooling has taken a new turn after this launch and the company will look to continue its high-quality service and innovation to make Spartan Plumbing, Heating & Cooling a dominant plumbing choice for homeowners and businesses. The Tornado Reinstatement Cutter has already hit the market and will be available at Hurricane Reinstatement Solutions.
Contact Info:
Name: Mike Gesty
Email: Send Email
Organization: Spartan Plumbing, Heating & Cooling
Address: 6211 E Speedway Blvd, Tucson, AZ 85712, United States
Phone: +1-520-617-1000
Website: http://www.spartantucson.com/
Source: PressCable
Release ID: 481516