THE book, "Secret Prince Of Manhattan" is the divine work of Dottie Minton. The author delivers an inspirational story filled with tragedy, family secrets, history, and romance, with a captivating journey. Published by Outskirts Press, May 2020, by the fastest-growing, self-publishing companies.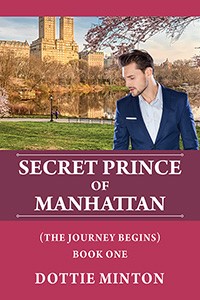 October 20, 2020 — This story is set in Manhattan and follows a junior business executive as he battles tragic events and struggles to overcome the loss of a loved one. The healing book has been described as a time travel piece that aims to inspire readers while allowing them to travel back in time between the 1960s and 1980s when America had to come together and overcome Cultural violence, Pollution, and Swine Flu that killed millions of people, and rebuild many cities in America.
Millions of people across the globe battle with different challenges and the ravaging COVID-19 pandemic has not made things any easier. Over the years, several self-help resources have emerged to help people discover themselves and overcome their challenges. Dottie Minton aims to take the cause of inspiring lives a notch higher with the release of her new book titled "Secret Prince Of Manhattan."
The captivating story allows readers to personify the events, associating their own life experiences as the young executive in the book awakens on his journey in Manhattan, New York. The book chronicles how the death of Brent Kingston's mother led to the revelation of family history and secrets. A series of events in the early spring of 1988 led to the awakening of Brent, with a holy man guiding him back to appreciate his life. The author of the fictional book wants readers to look inside themselves to overcome challenges and see the world differently.
Published in May 2020, the book, which is currently available on Amazon, Google, Barns & Noble, and Books A Million has continued to garner accolades from readers worldwide.
Dottie Minton has also announced plans to make the story into a TV series she will- continue to work on a screenplay for this powerful storyline until complete.
For more information about Secret Prince of Manhattan and other works from Dottie Minton, please visit – www.Divinewrites123.com. Or dotnews2@gmail.com
About Dottie Minton
Dottie Minton was born and raised in Florida. Her mother, Juanita struggled to raise the family. However, Dottie was determined to make a better life for herself by consequently putting herself through college. She aims to use her writing skills and creativity to inspire millions across the globe.
Contact Info:
Name: Dorothy Newsome
Email: Send Email
Organization: OutSkirts Publishing
Website: http://divinewrites123.com
Release ID: 88981663