Considered by many to be a noxious weed, this plant's seeds contain a substance that could provide one key to living a long and healthy life.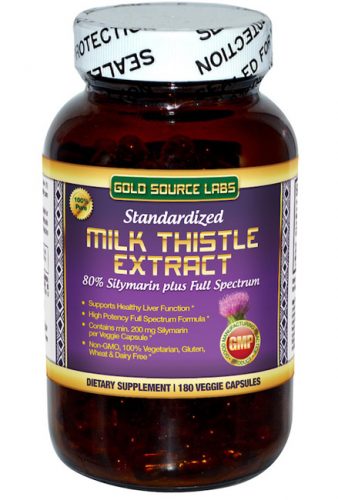 Boulder, United States - March 14, 2018 /MarketersMedia/ — Gold Source Labs has just introduced their new immune-boosting supplement, Milk Thistle Extract. While many people may be familiar with the milk thistle plant as a stubborn, invasive weed, they may not be aware that the seeds of the milk thistle plant have been used medicinally for centuries. Milk thistle seeds have been found to contain high amounts of a powerful antioxidant flavonoid called silymarin. Silymarin has been shown to protect the liver, support immune health and promote natural detoxification. Gold Source Lab's Milk Thistle complex consists of a potent extract which is standardized to contain a minimum of 80% silymarin, plus organic milk thistle seeds, containing additional flavonolignans, plus all the other full spectrum constituents for efficient and complete assimilation.
While some of the liver's major functions include metabolism of carbohydrates and fats, the liver is also primarily responsible for removing toxic matter such as chemicals, drugs and dead cells from the bloodstream, as well as maintaining special cells which kill disease-causing microbes. According to Gold Source Labs CEO Mark Adams, "Because of the liver's role in filtering our blood from microbes and toxins, and even alcohol and nicotine, the liver is an integral part of our immune system." Clearly maintaining liver health is considered to be one of the most vital health priorities.
As to why milk thistle's protective properties are so valuable, Adams explains, "From toxins in our water, soil and air to harmful chemicals in food containers, furniture and toys, to pathogens in our food, we're getting more daily exposure to toxins than ever before." These contaminants can interfere with the body's endocrine system and produce a host of developmental, reproductive, neurological, and immune problems.
Adams explains that the silymarin found in milk thistle seeds can support liver health and promote natural detoxification, and thereby promote entire body health and a strong immune system response. Gold Source Lab's Pure Milk Thistle Extract comes in a 180 count bottle of stearate-free veggie capsules. Each capsule provides a minimum of 250 mg of silymarin in a base of organic milk thistle seeds for optimal assimilation.
For liver support and natural detoxification, the recommended dosage is 1 to 3 capsules per day, or more, as directed by a physician. Adams reminds that, unlike strong pharmaceuticals, natural herbal remedies work with the body over time, but that their Milk Thistle Extract is very potent with high amounts of bio-available silymarin, and should be taken with care.
Visit http://goldsourcelabs.com for more information.
Contact Info:
Name: Mark Adams
Email: Send Email
Organization: Gold Source Labs
Address: PO Box 3298 Boulder Colorado 80307 USA
Phone: 303-586-4940
Website: http://goldsourcelabs.com
Video URL: https://youtu.be/LcCyLMJGHEk
Source URL: https://marketersmedia.com/new-milk-thistle-extract-from-gold-source-labs-natural-liver-support-and-more/311034
Source: MarketersMedia
Release ID: 311034