Looking for the best chiropractor in Meridian Idaho means considering how two new doctors at Gonstead Spine & Wellness offers new specialties, new patient offers and Spanish support.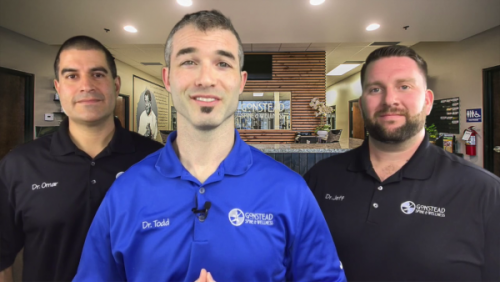 Meridian, United States - April 11, 2018 /PressCable/ —
Meridian based Chiropractic clinic, Gonstead Spine & Wellness, greatly expands their chiropractic and functional medicine ability on their mission to help residents of Idaho to regain their health.
The Gonstead method of chiropractic meets the demand of high quality care as it is recognized as being one of the most precise and detailed methods of chiropractic care to learn. Requiring a high skill level to take on some of the most difficult cases, a Gonstead practitioner can be an answer to many ailments. Specific Meridian sciatica chiropractic care has been shown to help with neck pain and back pain, sciatic pain, herniated or bulging discs, headaches, migraines, poor posture, scoliosis, sport injuries, fatigue and various extremity problems in the wrist, elbow, shoulder, ankle, knee and hip.
Dr. Omar Anguiano, DC comes with over 15 years of experience in the health and wellness arena. Dr. Anguiano practices functional medicine and chiropractic where he incorporates a combination of nutrition, hormone balance, fitness and permanent solutions for weight loss and weight control. With a background in physiology from the University of Kansas, his doctorate is in Chiropractic with postgraduate education in wellness and Functional Medicine. Other specialties of practice include functional nutrition, functional endocrinology, functional immunology, and fitness. As a fluent Spanish speaker, Dr. Anguiano will also focus his efforts to provide chiropractic and functional medicine to the Spanish speaking communities of Meridian, Boise, Nampa and much of the Treasure Valley Area.
Dr. Jeff Angstadt, DC has studied health sciences for the past decade. His background is in health and physical education prior to receiving his Doctor of chiropractic from Life University in Atlanta. He utilizes his love for education by thoroughly teaching his patients about the importance of spinal hygiene and the wellness lifestyle. The Gonstead methodology of adjusting has been his primary focus for the last 4 years. Delivering the most specific and analytic chiropractic care possible is his highest priority.
Find out more about Meridian and Boise Chiropractors
Dr Todd Pickman, DC, Chiropractic Clinical Director at Gonstead Spine & Wellness reminds his team, "Many people are frustrated with the current healthcare model, so we created a holistic framework that makes results the highest priority and the goal to educate our community for a lifetime of great health."
High quality chiropractic care has become the standard expectation over the past decades. Gone are the days of a minimal examination followed by "cracking" your back. Gonstead Spine & Wellness strives for the highest quality of care with a well-trained, dedicated team and utilizing the most evidence-based examination methods, high resolution digital x-rays and a detailed movement assessment that allows the doctors to identify the root cause of a patient's problem and how they can help correct it. In addition, their practice of before and after studies is of the utmost clinical value, enabling the patient to see their improvement and help the doctors continue to assure that quality, specific treatment methods are being followed every step of the way.
For more information about what makes them unique chiropractic center in the Meridian, Nampa, Boise, Idaho and Treasure Valley area, visit the Meridian chiropractor team at Gonstead Spine & Wellness.
Contact Info:
Name: Dr. Todd Pickman, DC
Organization: Gonstead Spine & Wellness
Address: 3085 Magic View Dr #180, Meridian, ID 83642, United States
Phone: +1-208-888-6077
Website: http://gonstead-id.com
Source: PressCable
Release ID: 328650