Driving Abroad - What you need: Headlight Adaptors Breathalysers GB Sticker/Magnet Hi-Visibility Vest Warning Triangle Spare Bulb Kit First-Aid Kit and Fire Extinguisher Drive Right Aid Driving Glasses Documentation Insurance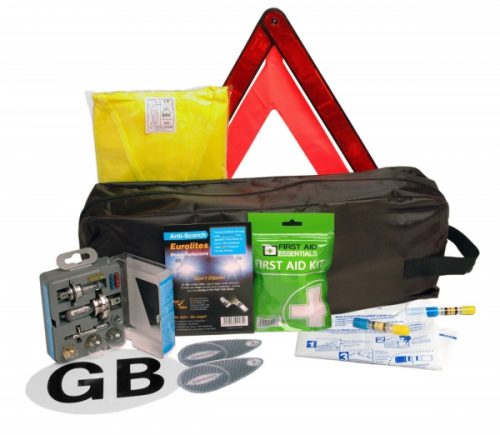 Dover, United Kingdom - August 30, 2016 /PressCable/ —
Those travelling to Europe find it difficult to obtain what is and what isn't legally required to have in their car. It has been seen time and again where drivers have been caught out with 'on the spot' fines by foreign law enforcement because of a misleading or incorrect information. So what are the legal requirements for drivers travelling to France and beyond?
It is a legal requirement to adapt headlights to avoid dazzling oncoming road users, which is dangerous and illegal. By law, at any time (day or night) when driving in Europe, driver must convert their headlights. It is worth noting that, in the event of an accident, dazzle being a contributing factor, an insurance company could invalidated a vehicles insurance policy as it could be classed as 'unfit for the road'.
Another legal requirement that has been subject to confusion is the breathalyser. Since the 1st July 2012, all vehicles travelling in and through France must carry an NF Certified Alcohol Breathalyser. This must be in every car, and must be produced when asked by the French Traffic Police. The legal limit in France is up to 0.5 BAC. It is necessary to obtain two breathalysers, as should a breathalyser be used the driver would be unable to produce one to the French Traffic Police. So don't fall victim to misleading information, it has been made clear by the French Government that breathalysers are still required.
Under international law, every vehicle must indicate the country of origin and registration of every vehicle. If a vehicle does not have a national plate present on the number plate, a GB magnet or sticker will be required. Should a breakdown occur or should an accident happen the driver will be required to wear a hi-visibility vest to be visible to oncoming traffic. This is a legal requirement, and the vest must be in an easily accessible place (not the boot). Otherwise, a fine may still be imposed. It is advisable and sensible to carry extra vests for passengers in case all passengers need to leave the vehicle for assistance or need to get to a place of safety. The majority of European countries require all cars to carry a breakdown warning triangle, which, in the event of a breakdown or any car trouble, must be placed 50-150 metres behind the vehicle. Most modern vehicles are well built and reliable. However, drivers can still experience punctures, a broken windscreen or have to leave the vehicle to get fuel; these are all circumstances in which a driver will be required to display a warning triangle.
On the continent, all lamps including lens and reflectors must be fully functional, should a vehicle have a broken, blown or damaged lamp it will be deemed 'un-road worthy' and can be stopped from driving any further. A blown running light must be replaced, and this is why a spare bulb kit is essential while driving abroad. And finally, in France, under the Good Samaritan Law, drivers must be in a position to provide assistance should a motorist arrive upon a scene of an accident. If a driver fails to provide assistance at a scene of an accident, this can be deemed an offence and liability to a large fine or imprisonment is likely.
Those are the legal requirements for travelling to France, and the majority of them are also required in other European countries. The most popular way to fulfil this requirement is to purchase a European Motoring Kit bag with all of the above inside.
Trusted Motoring Retailers include Family, Motoring and Leisure, European Driving Kits and Travel Spot LLP.
All information is based on travelling to and through France.
Correct at time of Publishing.
http://www.europeandrivingkits.co.uk
http://www.familymotoringandleisure.com
Contact Info:
Name: Fraser Matcham
Organization: Family Motoring & leisure
Address: swanton farm swanton lane lydden dover kent ct15 7lh
Phone: 7747633762
Website: http://www.europeandrivingkits.co.uk/index.html
Source: PressCable
Release ID: 130054