This new invention provides firefighters or first responders everything they need to immediately determine the capabilities of a fire hydrant, such as water pressure, viability and more. It saves them time and confusion during an emergency and may possibly save lives and property.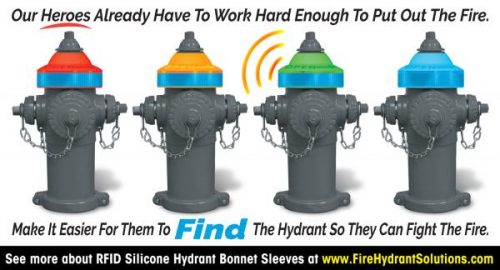 Oxford, United States - February 17, 2020 /PressCable/ —
Here's the scenario. A careless smoker in an office building causes a fire. The fire department rolls up to the building, sirens blaring. They rush to the nearest fire hydrant, connect their hose—and no water comes out. It's a bad fire hydrant and the firefighters had no way to know about it. If only there were a way to alert the first responders that a fire hydrant is bad!
Until now, unless the fire hydrant's bonnets were painted properly, there is no way for the firefighters to determine the water flow of the fire hydrant or if a hydrant was completely bad. In some cases, like previously noted, the firefighters can inadvertently hook up to a bad or "dry" fire hydrant. A new recently patented product could now help solve a lot of these problems. Glenn Ozburn just receive the patent on January 28, 2020 for his highly-reflective, stretchable Silicone Fire Hydrant Bonnet Sleeve that comes in National Fire Protection Association's approved color scheme (NFPA-291). To make it even better, these "silicone" bonnet sleeves incorporate radio-frequency identification (RFID) technology that uses electromagnetic fields to automatically identify and track tags attached inside the silicone sleeve. This Near-Field Communication allows for Fire Hydrant Field Technicians to properly maintain and document field testing and download the information to the hydrant itself. Down the road, If another municipality government worker needs to check this information, they can retrieve the information from the hydrant's bonnet sleeve. The RFID communication can even be take a step further and, depending on either active or passive RFID, first responders may be able to use a reader on the emergency vehicle itself to retrieve vital information such as "if the fire hydrant is operational" or "GPM or gallon flow per minute". GPM information can be critical in determining the amount of water pressure that is needed to fight different size fires. Knowing this information as soon as you see the fire hydrant is critical in "life or death" situations.
Fire hydrant maintenance can also be a "life-or-death" proposition. Not only should fire hydrants be operable and capable of providing adequate fire protection, they should also be clearly marked or colored, preferably to standardize NFPA-291 guidelines, to reflect the operation condition of each fire hydrant. NFPA-291 guidelines simply state that fire hydrants using public water supply systems should be painted chrome yellow, and their tops should indicate the available GPM. Below 500GPM should be red, 500-999 GPM should be orange, 1000-1499 GPM should be green, and 1500 GPM or more should be blue. These new silicone fire hydrant bonnet sleeves take this into consideration and can be manufactured in all of these colors and more. For instance, some municipalities may want to place a black silicone sleeve over a "dead" or "dry" hydrant. Private hydrants may utilize other colors as well.
The new highly reflective Silicone Fire Hydrant Bonnet Sleeve provides adequate colorization that meets the specifications as set forth by the NFPA-291 guidelines. The Inventor, Glenn Ozburn, said that "We owe it to the firefighter professionals to make their jobs easier and not to shoulder 'guess-work' when it comes to seeking an adequate and operational fire hydrant and our inventions helps take the 'guess-work' out of the equation."
Why Silicone? Silicone has inherent characteristics that make it the preferred material for a fire hydrant bonnet. In a study done by Shin-Etsu Chemical Company, it showed that "Silicone rubbers have exceptional weather ability. Ozone created by corona discharge rapidly deteriorates most organic rubbers, but has almost no effect on silicone rubber. In addition, silicone rubber can be exposed to wind, rain and UV rays for long periods with virtually no change in its physical properties."
When if comes to fire hydrant maintenance, whose responsibility is it? The water department or the fire department? If you ask, you will find that these two departments are just too busy and don't have the time to properly maintain the hydrants in their district. Maintenance for the public hydrants includes flushing, which helps to remove mineral deposits in water mains; checking on rubber gaskets and moving parts, wear and tear on which can create leaks; and ensuring that the hydrant has not been damaged (e.g., if a car or truck runs into a hydrant, knocking it off of its rod). Also you have to closely watch for freezing weather, which has potential issues, as leaking water, when frozen, can damage the hydrant. With the built-in RFID capabilities, all of this information can be digitally documented "on the spot" and downloaded to the fire hydrant. For a municipality to have a well run fire hydrant maintenance program, proper inspections are vital. Repairs can be scheduled proactively instead of reactively, and problems can be dealt with early. Experts agree that fire hydrants should be inspected on a regular basis at least once a year. This new sleeve will help document those problems.
The patenting process has been a long time coming and since receiving the patent on January 28, 2020, Glenn Ozburn is in the process of seeking someone or a company to license this product and possibly take it to the next level. Mr. Ozburn said that, "although the concept is great and the demand is there, I just need a manufacturing partner or a larger company to help in the manufacturing of these sleeves." He has already started receiving requests and questions concerning the silicone sleeves and availability. Mr. Ozburn said that "the future and demand of the sleeves can be quite overwhelming at times." When asked what he needs most to make this dream invention reach fire hydrants across the United States, his answer was simple and concise, "I need someone that can help me take this product to every hydrant on every city street and country road in America to help our first responders out!". That being said, if you or someone you know would like to help or you just want more information, visit www.FireHydrantSolutions.com.
Contact Info:
Name: Albert Ozburn
Email: Send Email
Organization: Get Viral! Marketing, LLC.
Address: 85 River Birch Drive, Oxford, Georgia 30054, United States
Phone: +1-770-864-0892
Website: https://www.getviralmarketing.com
Source: PressCable
Release ID: 88946829