Matej Ocepek is launching his brand new film, Girl With a Sonic Smile, available free at HeadphoneCinema.org. The film's target is fans of the art film and sound world. More information is available at the website: http://www.headphonecinema.org.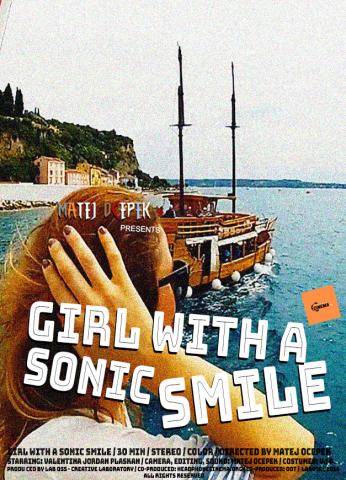 Ljubljana, Slovenia - December 4, 2018 /PressCable/ —
Slovenian experimental filmmaker and sound artist Matej Ocepek is launching his brand new art film, Girl With a Sonic Smile. The film is set to go live December 15th 2018 and is available online at HeadphoneCinema.org. The film is expected to stir lots of communication and excitement within the art cinema and sound community.
This is the fifth film Ocepek has authored for HCinema. The film's aim is to inspire individuals to explore the world not only by eyes but with all five senses. Girl With a Sonic Smile focuses on exploring natural sounds through the ears of the observer. Cinemaphiles will likely find a particular interest in few scenes that were shot in some secret cave under beautiful waterfalls, whose locations are a mystery.
Some of the more exciting elements about the launch is because most parts of the film was recorded live on location in both Slovenia and Croatia. Filmmaker and main actor improvised almost the whole film with exception of few parts that were scheduled in screenplay.
Ocepek has a background in documentary and experimental filmmaking, sound art and multi-media. His background helped shape creation of the movie in presenting a fresh and unique masterpiece that is beyond a genre of traditional cinema. All of the artists showed a great sense of creativity inside audiovisual story telling of the film.
When asked about why he made the film, Ocepek said, "There is so much sound playground around me. This movie is dream that came to me while investigating my AV suitcase. A custom build, I never shot a girl, much less an entire film, with this AV suitcase. I had to try and see if I could accomplish a film with the suitcase."
Ocepek has hopes that the film will inspire a new generation of filmmakers who will address sound as the main role in their projects. This positive outlook is certainly testament to their optimism, considering some of the mishaps during its creation. For example, at one point Ocepek and the actress could not enter the Croatian border. They scheduled a shooting there on location, but were held up at the border because actress forgot her passport. In a very risky move, Ocepek almost crossed the border into Croatia with the actress hidden in trunk of the car.
In the recent interview, the author made a point of thanking his production team, Lab Dss, for their support of project and also to Julij Zornik and his Studio 100 team. They were instrumental in post-production rent while making a 7ch surround version of the film.
Contact Info:
Name: Diane Oke
Organization: HeadphoneCinema.org
Address: 20c Poljanska cesta, Ljubljana, Ljubljana 1000, Slovenia
Website: http://www.headphonecinema.org
Source: PressCable
Release ID: 453568