User friendly trading platform Bitcoins Norway is a new exchange alternative with low fees and fast transactions. 5% of profits goes to the charities Médecins Sans Frontières, Save the Children, Red Cross and SOS Children´s Villages.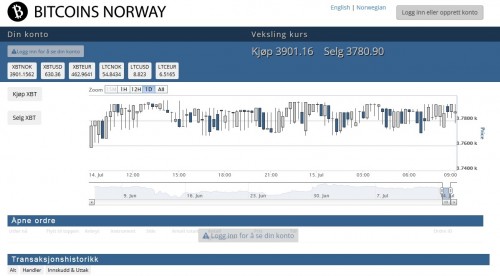 Norway - - July 16, 2014 /MarketersMedia/ — Newly launched Norwegian Bitcoin and Litecoin exchange platform bitcoinsnorway.com offers fast transaction times with low fees worldwide. The user friendly site allows members to securely buy, sell and hold Bitcoin and Litecoin. Bitcoins Norway also pledge to give 5% of their profits to reputable charity organisations fighting poverty. Bitcoins Norway values customer service and offers the competence and security necessary to ensure an optimal trading experience with the company slogan "Be a part of the Bitcoin adventure!"
The trading platform Bitcoins Norway takes only a 0.5% trading fee while executing transfers in less than 24 hours, anyone around the globe can have their money delivered directly to their bank in 24-48 hours. Decentralised digital currencies Bitcoin and Litecoin are regarded as income in Norway and Bitcoins Norway takes all legal actions to prevent money laundering according to Norwegian law.
The user friendly site implements an aesthetically pleasing minimalistic design displaying all necessary information on the main page; like price chart, open orders, transaction history and updated buy and sell exchange rates in the top right corner. Day traders, professionals and Bitcoin enthusiasts alike can effortlessly buy, sell and trade Bitcoin and Litecoin by clicking the buy and sell buttons right next to the price chart. Bitcoins Norway allows the client to easily choose and trade a variety of coin pairs like XBT and LTC to NOK, USD, EUR. The site is available in both English and Norwegian. Bitcoins Norway utilizes cutting edge security features including cold wallet storage for all funds to minimise risk exposure to malicious hackers.
Bitcoins Norway sees the necessity of giving back to the world, hence they are dedicating 5% of their profit to global charity organisations. Bitcoins Norway has chosen to support 4 organisations in particular; Doctors without Borders, MSF, (Médecins Sans Frontières) a non-governmental humanitarian-aid organization consisting of medical professionals working in countries with extreme poverty and war. Save the Children, an international aid organisation that promotes children's rights and provide help and support in development countries. The International Red Cross one of the world's most well-known charities and SOS Children´s Villages an organisation dedicated to aid abandoned, poverty-stricken and orphaned children.
The launch of Norwegian exchange Bitcoins Norway illustrates increasing support for Bitcoin in Scandinavia. Bitcoins Norway allows effortless handling of Bitcoin and Litecoin with fast money transfers between 24-48 hours, with optimal security and low fees of maximum 0.5%. By donating a generous 5% of profits to worthy causes around the globe – Bitcoins Norway proves to be an ethical, as well a professional contribution to the cryptocurrency ecosystem.
Contact Info:
Name: Ole Andre Torjussen
Email: Send Email
Organization: Bitcoins Norway
Website: http://bitcoinsnorway.com
Source URL: https://marketersmedia.com/new-exchange-bitcoins-norway-offers-industry-grade-trading-donaties-5-to-charity/54484
Source: MarketersMedia
Release ID: 54484