Scientific studies have uncovered new information that DHA provides more health benefits beyond brain, eyes and heart than originally thought.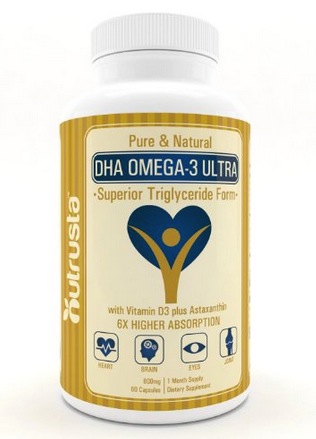 Austin,, Texas - - August 29, 2014 /MarketersMedia/ — Many clinical studies have confirmed the health benefits of Omega-3 Fatty Acids, mainly (docosahexaenoic acid) DHA and (eicosapentaenoic acid) EPA. Until recently, EPA was given greater significance than DHA. All that is changed with results from studies like the recent one conducted by Oregon State University, which revealed: "A study of the metabolic effects of Omega-3 Fatty Acids, especially DHA, concludes that these compounds may have an even wider range of biological impacts than previously considered, and suggests they could be of significant value in the prevention of fatty liver disease."
DHA omega-3 fatty-acids have been proven to show recognizable benefits for cognitive function in both healthy young adults and elderly people. In fact, a randomized controlled trial that was published in the American Journal of Clinical Nutrition, conducted by Stonehouse W., et al, showed that DHA supplementation improved both memory and reaction time in healthy young adults. Another clinical study done by Yurko-Mauro K. showed the positive effects of DHA on memory and cardiovascular function of seniors. Medical journals are replete with evidence supporting the use of DHA Omega-3 to improve the health and functioning of the Brain, Eyes and Heart.
Keeping in mind that 97% of the brain's omega-3 fats are DHA, and 93% of the retina's omega-3 fats are DHA, researchers at Nutrusta developed a second-generation formula called DHA Omega-3 Ultra. This is the first omega-3 fish oil formula to have a 6:1 DHA to EPA ratio. Consuming too much EPA could actually block DHA's benefits. Nutrusta made sure to include other ingredients not found in most omega-3 formulas.
This is a unique omega-3 product that contains the age-reversing formulation of higher DHA to EPA, Astaxanthin and Vitamin D3. A full product description can be found on Amazon.com at this link: http://bit.ly/dha-omega-3-ultra
Vitamin D3 is not only essential for strong bones, it supports cell growth, helps in DNA repair and metabolic processes, strengthens the immune system and supports cardiovascular health. Astaxanthin is an especially powerful and long-lasting antioxidant that is 550 times stronger than Vitamin E and 6,000 times stronger than Vitamin C. Astaxanthin has been shown to support eye, brain, joint and skin health, healthy blood sugar levels, endurance and weight control.
Not all Omega-3 products are the same. There are many on the market, but the majority of them do not employ processes like Supercritical CO2 Extraction to gently extract, concentrate, and purify the omega–3 fatty acids. The CO2 prevents oxygen from being exposed to the oil, thereby protecting the oil from degradation, which would make the oil rancid, contributing to the body's inflammation. Chronic systemic inflammation is behind every major disease in the human body. Nutrusta has published an informative article about omega-3 and DHA on their blog.
About Nutrusta:
Nutrusta (TM) is a natural supplement company that uses pure ingredients in the most bioavailable form to achieve maximum absorption by the body.
For complete information, please visit: http://www.nutrusta.com/pages/dha-omega-3-ultra
Please review the Nutrusta blog post The Surprising Truth About DHA Omega-3 at : http://blog.nutrusta.com/dha-omega-3/
Contact Info:
Name: Lincoln Liow
Organization: Nutrusta
Phone: 1-866-512-5511
Source URL: https://marketersmedia.com/new-dha-omega-3-benefits-discovered-by-scientists/60764
For more information, please visit http://blog.nutrusta.com/dha-omega-3/
Source: MarketersMedia
Release ID: 60764