FREE TATTOO REMOVAL TREATMENT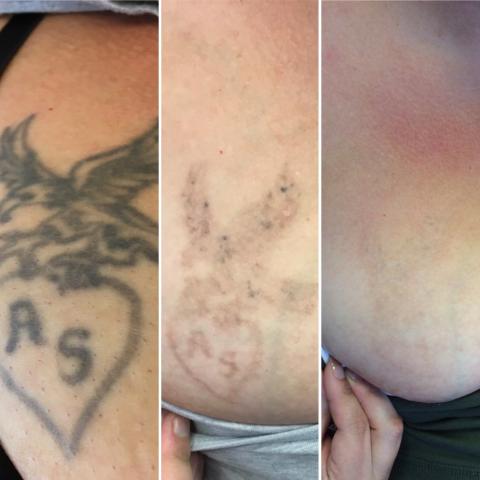 Burnham, United Kingdom - July 17, 2018 /PressCable/ —
ONE FREE SESSION FOR TATTOO REMOVAL. Our clinic in Burnham (near Windsor / Slough ) is using the world class PicoSure laser. We are looking for bloggers / journalists who may be interested in trying out the PicoSure for tattoo removal. If you are interested in applying for this free session, please send us details / picture of your tattoo and where you are likely to publish your article on your experience at LaserYou.
PicoSure is the world's first picosecond laser and the ONLY advanced tattoo removal laser with PressureWave technology. Traditional lasers use heat to break down tattoo ink however PicoSure delivers energy so rapidly (trillions of a second) that tiny particles that make up tattoo ink vibrate and shatter without burning surrounding tissue. Its true: all lasers work in the same way: they break down the ink into small particles and the body then eliminates the ink through its natural processes. But use this analogy to understand the PicoSure difference: older laser break down the ink into big particles, the PicoSure breaks down the ink into sand-like particles making it much easier for the body to get rid of the ink (smaller particles also means fewer treatments are needed)!
The PicoSure, unlike other laser machines treats all colours, including difficult ink colours, such as blue, purple and green. This unprecedented advancement in laser technology safely and effectively erases tattoos with fewer treatments and better results. Even tattoos that have been treated previously but failed to clear can be removed.
We are very lucky to have this machine as there are currently ONLY about 20 PicoSure LASER MACHINES IN THE COUNTRY!
Works on ALL colours,
Works just as well for previously treated tattoos
Fewer treatments, faster recovery time
25-50% fewer sessions vs Q-Switched lasers
Prices start from £65
consult@laseryou.co.uk tel: 01628 663075
www.laseryou.co.uk
Specialist laser clinic for men & women located at The Old Fire Station in Burnham High Street. All treatments are carried out by insured professionals focusing on professional treatments and aftercare. We use the revolutionary state-of-the-art laser machine CynoSure PicoSure which is widely considered the best in the industry for tattoo removal. All clients are first seen at a free consultation where we assess their suitability. We will also carry out a patch test with the laser machine
Contact Info:
Name: Naffisa
Email: Send Email
Organization: LaserYou Body4Real Aesthetics
Address: The Old Fire Station Church Street, Burnham, South Buckinghamshire SL1 7HX, United Kingdom
Phone: +44-1628-663075
Website: https://LaserYou.co.uk
Source: PressCable
Release ID: 373573