Professional speaker and business consultant Ida Shessel releases her new book The Expert's Roadmap to Engaging, Encouraging, and Empowering for Profit: A Simple and Easy-to-Follow System for Getting Paid What You're Worth.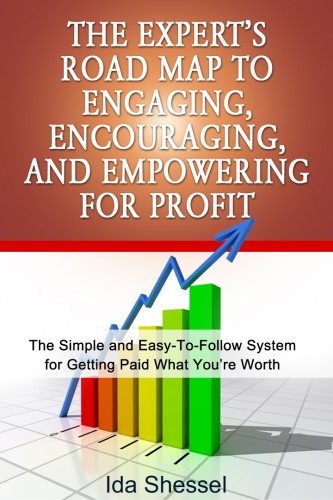 Toronto, Canada - October 8, 2013 /MarketersMedia/ — There are experts in every field who, for various reasons, have never been able to parlay their knowledge into a profitable enterprise. Many of these people are stuck working for uncaring companies and business owners who don't appreciate the skills and knowledge they possess. In a new book by notable professional speaker and business consultant Ida Shessel (http://www.Engage-Encourage-Empower.com), these experts are provided a roadmap to success by one of the foremost corporate trainers of the last thirty years. She provides valuable insight, tips, and information that can be used by readers to turn their knowledge into consulting and training businesses for clients around the world.
While many people are good at what they do for a living, they have no idea how to create effective learning experiences for clients. As such, they have difficulty translating their own knowledge and expertise from the familiar business setting to a teaching environment. In The Expert's Road Map to Engaging, Encouraging, and Empowering for Profit: The Simple and Easy-To-Follow System for Getting Paid What You're Worth, Shessel demystifies the process of creating good learning sessions for clients using strategies that capture their attention and encourage them to think beyond the obvious.
The ultimate goal of the book, however, is to help the expert to produce a profitable income stream by selling their knowledge to eager clients. In order to do this, however, much of the focus is on creating a quality learning experience that goes beyond basic instruction and teaching. This not only makes it easier for readers to attract their first few clients, but also helps them to begin receiving business through word of mouth recommendations from existing clientele. Shessel clearly believes that at the heart of a successful business are the relationships that are forged with customers. Therefore, particular attention is paid to the mindset of clients within the pages of the book, including how best to understand them and deliver quality advice to them which they will appreciate.
All experts, regardless of their individual professional fields, can benefit from reading The Expert's Road Map to Engaging, Encouraging, and Empowering for Profit. Not only can the information contained within the book be used to easily produce a part-time or full-time income, but it can lead to a much more fulfilling career as a teacher, speaker, or spokesperson. Experts who pursue this avenue of opportunity will discover that there are clients out there who truly appreciate the authority and mastery that they bring to a subject matter, and are willing to pay them for the opportunity to learn from the very best. Ida Shessel's definitive book on transforming expert knowledge into a money-making opportunity can be purchased on Amazon today at http://ezrd.me/r/?rd=082Q9MPR.
Contact Info:
Name: Ida Shessel
Email: Send Email
Website: http://idashessel.com/
Source URL: https://marketersmedia.com/new-book-teaches-experts-how-to-profit-from-their-knowledge-even-in-a-down-market/23705
Source: MarketersMedia
Release ID: 23705