ADHD Counseling can assist with learning structure, emotion regulation, working on social skills, and any anxiety that may occur. Mountain Vista Psychology offers testing services to diagnose.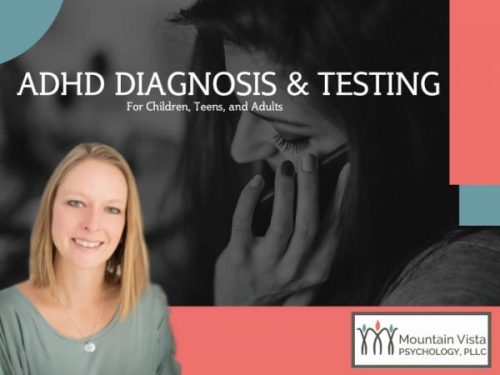 Englewood, United States - August 21, 2019 /PressCable/ —
There's no single test to diagnose ADHD. Instead, practices treating this mental health disorder rely on several things, such as interviews with the parents, personally watching the child or adult, questionnaires, psychological tests, and more. With a healthy population of individuals in Englewood, CO, and neighboring areas, searching for more information about ADHD testing, Mountain Vista Psychology plans to be at the forefront of providing information and detailed testing.
MVP assists clients in achieving changes they desire in a collaborative, respectful, and nurturing environment. Through the use of research-based effective treatment options and monitoring progress, MVP ensures clients are receiving the benefits they need in their lives to promote change. For treating ADHD in children, teens, and adults, this starts with identifying a diagnosis by testing.
The importance of providing ADHD Testing is to create an understanding of what's really going on. Many of those with ADHD struggle with live tasks such as constantly running late, not having a concept of time, procrastination, missing assignments, and late work. This leads to the questioning of "Is this ADHD or just lack of motivation?" Once these thoughts are running through a person's mind, an ADHD evaluation can be extremely helpful. It allows for a clear understanding of current strengths and areas of needed support. Regardless of whether or not a diagnosis of ADHD is given based upon the results, there will be a plan of how to improve one's quality of life.
Mountain Vista Psychology does a lot of testing for adults, teens, and children to help determine an ADHD diagnosis. We understand how vulnerable it can feel to go through the process and what you to know we assess for strengths not just areas of struggle. These assessments are thorough and follow the line of best practices in ADHD assessments and diagnosis. A complete report is written, and an in-person feedback session is held upon the completion of testing. When testing is complete, we often hear about how helpful just going through the testing process was. Understanding and affirmation is obtained in a caring and supportive environment. If a diagnosis is made, oftentimes people choose to share the testing results with their schools and/or doctors. Our reports have been used for children to access accommodations at school (including on the ACT/SAT). Adults have used our reports for college accommodations as well as accommodations on the LSAT, GRE, and MCAT.
MVP has greatly expanded their online presence to make sure those looking for more information on this topic readily find it. Any individual in or around the Englewood, CO area looking to get more information on ADHD Testing can contact MVP by visiting their website at https://www.mountainvistapsychology.com/contact-and-directions/. The office hours for MVP are 9:30 AM- 7:30 PM, Mon-Thurs, and 9:30 AM – 6:30 PM on Fridays.
Contact Info:
Name: Steffanie Stecker, Ph.D.
Email: Send Email
Organization: Mountain Vista Psychology, PPLC
Address: 88 Inverness Cir Building E – Suite 103, Englewood, CO 80112, United States
Website: https://www.mountainvistapsychology.com/
Source: PressCable
Release ID: 88910118