A new 12 step workbook offers recovering addicts daily inspiration and exercises inspired by the Book of Genesis.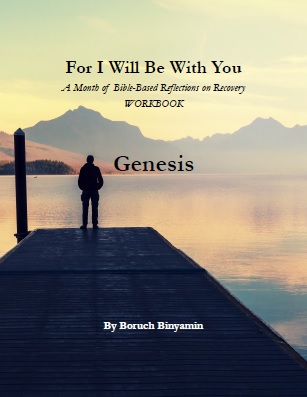 CLEVELAND, Ohio, USA - May 26, 2016 /MarketersMedia/ — HB Publications, LLC, the publisher of media that aids in addiction recovery, announced today that it has released a new Bible-themed 12 step workbook, "For I Will Be With You: A Month of Bible-Based Reflections on Recovery," by Boruch Binyamin. The workbook gives readers 31 daily reflections adapted from Binyamin's book, "For I Will Be With You," which offers recovering alcoholics and addicts a full year of daily inspiration quotes taken from the bible.
"This workbook gives people of faith who are struggling with addiction a framework to connect The Bible with the 12 steps of alcoholics anonymous," said Binyamin. "AA is non-sectarian by design, which is very smart, but some people are greatly helped by finding a connection between their religious faith and the process of addiction recovery." The book's insights are based on ideas gleaned from classical Torah commentary.
The Workbook goes through Genesis from start to finish. For each of the 31 days it covers, the Workbook discuses a verse from Genesis and then provides an AA meditation, thought questions and a 12-step journaling exercise. By going through the book, the reader will be exposed to the highlights of the entire Book of Genesis and taken through all 12 steps of AA.
For example, on Day 12, the Workbook references Genesis 19:17, the famous story of Lot's wife, who looked back on Sodom burning and was turned into a pillar of salt. The Workbook asks the reader to ponder this moment and connect it with the 5th Step of AA, "Admitted to God, to ourselves and to another human being the exact nature of our wrongs." The Workbook asks the reader to think about whether it is possible to admit the exact nature of one's wrongs without possibly looking back affectionately at addictive acting out, as did Lot's wife.
The company is also releasing a companion Instructor Guide designed to help treatment professionals at rehabilitation centers lead discussions based on the Workbook. Boruch Binyamin is the pseudonym of a 51-year-old religious Jewish man who is in recovery from alcoholism. The books can be ordered at www.hbpubs.com or on Amazon.com. A set of 10 workbooks is available at a discounted price.
END
# # #
Contact Info:
Name: Hugh Taylor
Email: Send Email
Organization: HB Publications, LLC
Address: PO Box 21661, South Euclid OH 44121
Phone: 800-887-7134
Website: http://www.hbpubs.com
Video URL: https://www.youtube.com/watch?v=ZY4RN5Wpjqg
Source URL: https://marketersmedia.com/new-12-step-recovery-workbook-draws-inspiration-from-the-book-of-genesis/116771
Source: MarketersMedia
Release ID: 116771