Nelson Roosen's new binary options trading platform is looking for beta testers of all levels of experience, who can keep all the profits they make on the new system in exchange for their feedback.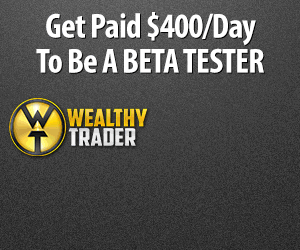 San Francisco, CA,, United States of America - - May 6, 2014 /MarketersMedia/ — Nelson Roosen is a trader who made a fortune on the stock market using the simplest methods of trading available to begin with, before moving into more advanced techniques. Having made his own fortune, he began to look at how he could empower others to make theirs by designing software that would make trading as simple as possible at all levels, enabling individuals to make better investments more easily. His latest venture, Wealthy Trader, is a binary options trading software that is now seeking a limited number of beta testers.
The beta testers will be given a small amount of funds to get started which they can invest any way they see fit, to enable them to explore the mechanisms of the options trading software and the initial tutorial package. Having gotten to grips with the software, any profits from the initial seed capital provided by Nelson Roosen will be theirs to keep.
Beta testing is traditionally undertaken by experts and aficionados who want to be able to help define the next generation of software, but is rarely paid outside the games industry. This presents a unique opportunity for novices to engage with beta testing and best of all, start making profits right away.
A spokesperson for Wealthy Trader explained, "Wealthy Trader is an exciting new platform, and from the pool of beta testers we have already we are posting live results to help people see what a difference it's already making. We are allowing beta testers to keep all the profits they make when testing the software because this allows us to create evangelicals who can attest to its success while helping us improve and optimize the user interface and core mechanics. The beta is open to all levels because it's as important to Nelson for new users to find it easy to use as it is advanced traders, making this a once in a lifetime opportunity."
About Wealthy Trader:
Wealthy Trader is a new and cutting edge binary trading options software designed to be intuitive enough for all levels of experience and powerful enough to help advanced users make huge profits. The software is currently seeking a limited number of beta testers.
Contact Info:
Name: Joe Bragg
Organization: Brandoutreach
Phone: (415) 632 1664
Source URL: https://marketersmedia.com/nelson-roosen-of-wealthy-trader-offers-paid-beta-positions-for-new-binary-trading-software/43185
For more information, please visit http://www.wealthytrader.co/
Source: MarketersMedia
Release ID: 43185