Natural Rapids has created an all natural deodorant that promotes a wide range of benefits and is made with all natural and organic ingredients.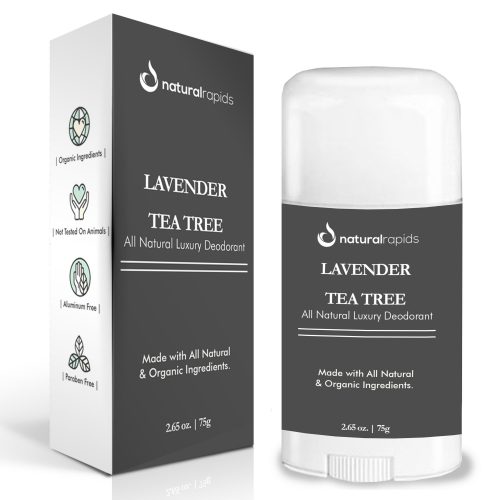 New York, United States - May 14, 2019 /MarketersMedia/ — Deodorants are used daily by both men and women to smell fresh all day long. The majority of deodorants contain ingredients like aluminum, artificial dyes, preservatives, and synthetic scents. While these ingredients can block body odors, customers are now searching for healthier options.
There are a few obstacles facing people that are looking for a natural deodorant. First, a vast majority of natural deodorants just don't work that well. Second, they are often challenging to find at your local stores. Finally, many natural deodorants on store shelves cut out some synthetic ingredients, but keep in others.
Natural Rapids, a rapidly growing health and beauty brand with a focus on natural products, recently introduced their highly-anticipated natural deodorant with magnesium. This deodorant contains several all-star ingredients that fight odor-causing bacteria such as magnesium, coconut oil, and shea butter. Furthermore, the deodorant only uses natural and organic ingredients.
The all natural and effective ingredients of this unique deodorant are what set it apart from other products. This deodorant is produced under strict hygienic conditions and contains no artificial ingredients, unlike conventional deodorants on the markets presently.
"We've always loved natural deodorants, but we've been disappointed to see that so many products contain harmful ingredients that just aren't worth putting on your body," said Bruce Stevenson, co-founder of Natural Rapids. "We created this Natural Deodorant to bring a deodorant that works and contains 100% natural and organic ingredients to the public, so they can smell great while using a truly all natural product."
This deodorant has only a few ingredients and is aluminum free, baking soda free, paraben free, phthalate free, and cruelty-free. This organic deodorant solves the need to choose between your health and smelling great all day.
When it comes to health benefits, this deodorant is second-to-none. Many other natural deodorants contain baking soda, which can often leave armpits painful and inflamed. The Natural Rapids deodorant contains no baking soda, and the formula is designed to be gentle on the skin.
There are absolutely no synthetic fillers that can often react poorly with the skin. "Our main goal with this deodorant was to create an all natural aluminum free deodorant that works and doesn't damage your body," said Bruce. "We wanted to show people how premium-quality, natural ingredients can improve peoples lives, and that's exactly what we're doing."
The Natural Rapids deodorant has just been released on Amazon.com. To celebrate, Natural Rapids is giving away an exclusive 15% off Amazon discount coupon code to try their deodorant. This way more people can experience this breakthrough solution at the lowest possible launch price. To get yours now, visit https://www.naturalrapids.com/nrd-launch-special. Natural Rapids did a limited run of this deodorant, so supplies are limited.
Contact Info:
Name: Bruce Stevenson
Email: Send Email
Organization: Natural Rapids
Website: https://www.naturalrapids.com
Video URL: https://youtu.be/tpsgaFGndt4
Source URL: https://marketersmedia.com/natural-rapids-announces-release-of-groundbreaking-aluminum-free-natural-magnesium-deodorant-for-women-and-men/509937
Source: MarketersMedia
Release ID: 509937