While NASA is looking to grow a vegetable garden on the moon, SurvivalSeeds4Patriots is suggesting that people store seeds at home to achieve food independence.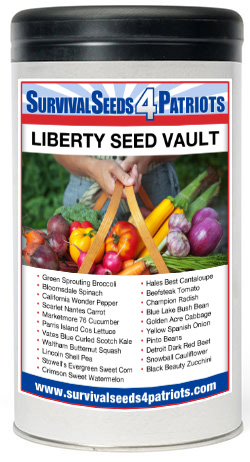 Nashville, Tenn.,, United States - - January 11, 2014 /MarketersMedia/ — According to a recent report by the Washington Times
(http://www.washingtontimes.com/news/2013/dec/2/nasa-sends-seeds-moon-test-out-vegetable-garden/), NASA will send vegetable seeds to the moon in 2015 to determine if they can grow there and if perhaps humans can live there. The seeds will be delivered in sealed containers, which will release a small reservoir of water when they land.
SurvivalSeeds4Patriots applauds the pioneering efforts of NASA, and also wants to remind those who will continue to live on Earth that they can have their own stockpile of vegetable seeds to use for planting, growing, harvesting, replanting and storing for the future. The company recommends that people use only open-pollinated, non-hybrid, non-genetically modified seeds in their gardens.
Providing a path to independence and self-sufficiency, SurvivalSeeds4Patriots offers the Liberty Seed Vault (www.SurvivalSeeds4Patriots.com). The air-tight metal storage container includes more than 5,400 heirloom seeds from 21 varieties of vegetables including broccoli, spinach, carrots, squash, corn, tomatoes, onions, beets and zucchini. Each order is accompanied by four guides and a 100 percent money-back guarantee.
After growing and enjoying these nutritious vegetables, gardeners can use the seeds from the harvest for next year's crops, so they never have to buy seeds again. The company says that this strategy provides additional benefits because it allows people to be less affected by food shortages and increasing food prices.
Unfortunately, not everyone is able to grow a garden. But after storms such as Katrina and Sandy, as well as many other weather events, many people have learned the hard way that having a stockpile of emergency food is a must.
Food4Patriots (www.Food4Patriots.com), the supplier of emergency food suitable for long-term storage, survival and emergency preparedness, launched a product line in July that includes 72-hour, four-week and three-month emergency food kits. The company sold more than 500,000 adult-sized servings of Food4Patriots survival food to concerned patriots within the first few weeks.
The food in these kits can be prepared in less than 20 minutes and requires nothing more than boiling water. It is kept in easy-to-store Mylar pouches, which keep out air, moisture and light. Shelf lives are up to 25 years. Among the nutritious foods that are part of the Food4Patriots' kits are:
- Mountain Man Granola
- Apple Orchard Oatmeal
- Granny's Homestyle Potato Soup
- Blue Ribbon Cheesy Chicken Rice
- Ol' 49ers Hearty Chili
- Creamy Beef Stroganoff
- Frank's Five Star Minestrone.
Those who order one of the Food4Patriots Emergency Kits will also receive four reports: "Top 10 Items Sold Out After Crisis," "The Water Survival Guide," "The Survival Garden Guide" and "How to Cut Your Grocery Bills in Half."
Patriot Headquarters (www.patriotheadquarters.com) publishes articles, videos and news to help patriots become more self-reliant and independent from government and big business.
Contact Info:
Name: Tim Bates
Organization: Reboot Marketing
Source URL: https://marketersmedia.com/nasa-sends-seeds-to-moon-survivalseeds4patriots-recommends-storing-seeds-closer-to-home/30619
For more information, please visit http://www.SurvivalSeeds4Patriots.com
Source: MarketersMedia
Release ID: 30619