As the e cigarette industry takes hold, popularity is growing for an e cigarette starter kit to help smokers turn to a healthier alternative to regular cigarettes. These kits are a perfect solution and offer excellent value for smokers providing everything needed to get started.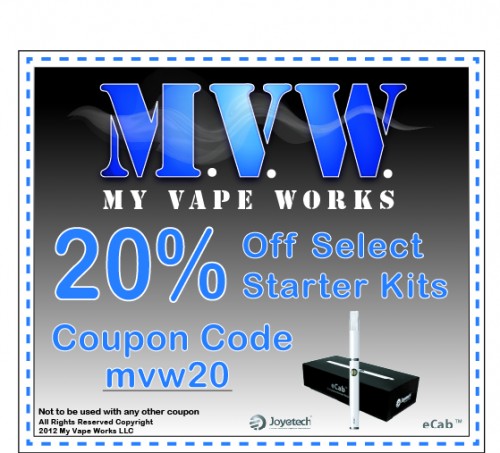 December 6, 2012 /MarketersMedia/ — It's hard to ignore the fact that so many smokers are trying out the electronic, non-burning, nicotine delivery system known as the e cigarette in an effort to eliminate some of the health risks associated with smoking. Electronic cigarettes currently generate an estimated $250 through $500 million in revenue on an annual basis. Although this is a drop in the bucket in comparison to the billions of dollars generated by the U.S. tobacco market, statistics show that by 2010 2.7% of adults in the U.S. had tried this innovative alternative to regular cigarettes. Exposure to e cigarettes continues to rise making it much more than an enthusiastic fad or novelty. E cigarettes are being looked at as a true health conscious solution for smokers.
My Vape Works LLC offers the best e cigarette starter kit at an outstanding value. Each starter kit provides all of the necessary components needed to successfully begin using an e cigarette system. A top seller such as the Joyetech eGo-T Starter Kit utilizes a tank system which allows the user to drip e-liquid directly into a 1.1ml cartridge eliminating the need for filler inside the tank. The e-liquid is then fed to an atomizer as needed. Starter kits include cartridges, atomizers, and batteries as well as other accessories and a manual to complete the e cigarette system.
E cigarettes have a high conversion rate which essentially means that smokers who try e cigarettes don't go back to tobacco cigarettes. E cigarettes look and feel very similar to regular cigarettes and are, therefore, easy to use in social situations without making a smoker feel out of place in some way. Associated health risks are reduced due to the elimination of smoke, ash and tar. Non-burning e cigarettes also eliminate fire potential making the lives of smokers and their families much safer. E cigarettes don't stain teeth or fingers and are also less expensive than tobacco cigarettes.
Any smoker who is interested in trying e cigarettes and wants to get on the road to better health can visit My Vape Works LLC website to find everything needed in an e cigarette system. An E cigarette starter kit also makes a perfect gift. Kits and many different accessories are available for purchase on line. Educational information is also available showing how e cigarettes work along with detailed descriptions of e cigarette system components.
Contact Info:
Organization: My Vape Works LLC
Phone: (720) 295-1152
Website: http://www.myvapeworks.com/
Source URL: https://marketersmedia.com/my-vape-works-llc-offers-the-best-ecigarette-starter-kit-to-help-you-quit-smoking/854
Source: MarketersMedia
Release ID: 854