MusicPromoOnly has helped some of this year's breakout social media stars establish their profile by generating key popularity markers for new audiences and has received rave reviews for their work.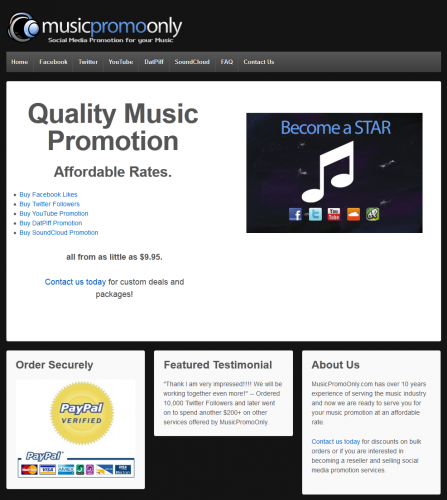 Glasgow, Lanarkshire,, United Kingdom - - May 12, 2014 /MarketersMedia/ — The music industry is one of the most competitive industries in the world, and while there are thousands of artists out there with the talent to make it big, all too often it is the zeitgeist that decides which will rise and fall. To get a chance to rise, however, requires an artist to have a groundswell of support from early adopters to spread the word. In place of this, MusicPromoOnly can help create the perception of popularity and endorsement for acts of all kinds across their major platforms, so that people looking for new discoveries are more likely to find them and more confident to give them a chance. Their promotional efforts have seen a plethora of great reviews from artists who have used their services to build their following and careers.
At MusicPromoOnly.com, musicians and artists can find YouTube views, likes, comments and favorites, DatPiff downloads, streams and ratings, SoundCloud plays and more along with Facebook likes and Twitter followers. This presents musicians with a one-stop-shop for all their social media needs, enabling them to build a high profile almost overnight.
These services are of the highest quality and guaranteed to help individuals attract more attention to their work and get the all-important seal of popular approval that can create exponential growth in popularity. Existing customers have raved about the site's fulfilment of their orders and the positive effect it has had on their early music careers.
A spokesperson for MusicPromoOnly explained, "Not only do we provide affordable rates but we also advise individuals on what packages would be best for them. For a rap artist whose themes are grandiose, a million views is the least they need to appear to walk their talk, while for an intimate two-piece indie artist having less views but a high ratio of likes and comments can make them feel like the hot new discovery that has yet to become mainstream. Because we specialize in music promotion in particular, we can better serve our clients across all their key online media touch points. We believe this attention to detail is why we have been getting so much positive coverage by way of reviews on social media."
About MusicPromoOnly:
MusicPromoOnly specialize in online marketing services for musicians, bands and artists looking to get recognized in an increasingly competitive world. The site offers downloads, streams, views, likes and more from some of the biggest music discovery platforms on the web to help artists establish their profile.
Contact Info:
Name: David Anderson
Organization: MusicPromoOnly
Phone: 7980273570
Source URL: https://marketersmedia.com/musicpromoonly-gains-rave-reviews-for-their-affordable-music-promotional-services/44035
For more information, please visit http://musicpromoonly.com/
Source: MarketersMedia
Release ID: 44035