Mummy's Miracle Talc-free Baby powder is formulated with active Moringa Oil, Pure naturally absorbent Corn-Starch, Rice Starch, Aloe Vera Gel. It is safe for sensitive skin. Clinically shown to be non-irritating, keeps delicate skin soft, dry and comfortable, Pediatrician-tested. Toxic-free, No animal testing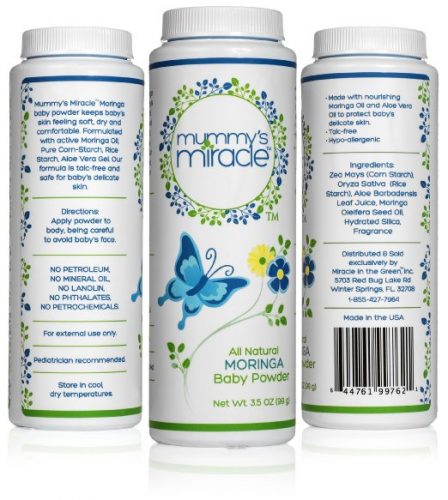 OVIEDO, United States - September 3, 2016 /PressCable/ —
Mummy's Miracle Announces Launch of All-Natural Talc-Free Mummy's Miracle Moringa Baby Powder on Amazon.com
Many parents discover that common brands of baby powder are quick to irritate their baby's sensitive skin. Which isn't a surprise considering the ingredients that many of these companies use. Mummy's Miracle recently announced their solution to this problem, Mummy's Miracle All-Natural Moringa Baby Powder is now available on Amazon.com and parents couldn't be happier.
Most people would agree, if ever there were a time to focus on all-natural, high quality and safe products it's when shopping for their baby. The exciting new company Mummy's Miracle certainly agree, with their brand focusing on delivering the best in natural baby product choices at reasonable price points. Recently, Mummy's Miracle announced the launch of their latest product on Amazon.com, All-Natural Talc-Free Mummy's Muracle Moringa Baby Powder, a smart alternative to harsh chemical baby powders, that keeps a baby's skin soft, dry and healthy.
"We're very excited to see our Mummy's Miracle Moringa Baby Powder be available on Amazon," commented a spokesperson from the company. "It's a product that gets rave reviews and that we have absolute confidence in. We know how many shoppers trust and value the Amazon marketplace shopping experience, so it's important to us to see our natural, non-toxic baby care products available on Amazon. It's a win/win for everyone concerned."
According to the company, their baby powder is formulated with premium Moringa Oil, corn starch, rice starch and Aloe Vera gel. It's all natural, toxin free, BPA free and Pediatrician tested. Like all of Mummy's Miracle products, it is never tested on animals.
Mummy's Miracle also offer a wide range of other baby products, all with the same commitment to being safe, natural and effective.
Early feedback for Mummy's Miracle Moringa Baby Powder have been positive across the board.
Chile C., recently said in a five star review on Amazon.com, "I am currently pregnant and needed a powder to use that was safe on me and the future little one. I found this on Amazon and it had great reviews. I have been using this everyday, and it has been great. It smells good and it's cooling. I will definitely continue to use this."
For more information be sure to visit http://www.amazon.com/Miracle-in-the-Green/pages/d…
Contact Info:
Name: OBINNA NWOBI
Organization: miracle in the green
Address: 5703 red bug lake road wintersprings fl 32708
Phone: 4077483469
Website: http://www.amazon.com/Miracle-in-the-Green/pages/default?pageId=TO1Y0MVLMDSHEES&channel=pressrelease
Source: PressCable
Release ID: 130782