Live on Kickstarter, Knotty is the world's only multi-functional Folio / Clutch / Messenger / Laptop Bag.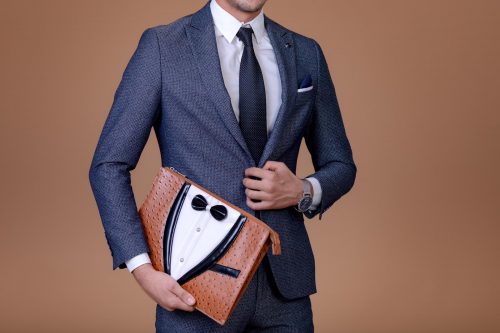 London, United Kingdom - February 25, 2020 /MarketersMedia/ — Knotty, Studio, the leather-based fashion accompany deriving its name from the innovative use of knots rather than buckles and hardware, has launched an all new line of clothing-design inspired bags called ClutchBags. The company is live on global crowdfunding platform Kickstarter and raising funds to bring the project to life.
Knotty believes a bag is not just a bag— but rather an extension of who people are and where they are going. With ClutchBag, the company is hoping to capture the connection between what people wear, how they wear it and why they wear it. Each bespoke design captures a different style of dress making each piece the perfect accent to any look.
"As clutches and folio are on the rise even in men these days who want to carry light and have their everyday business utility items on the go. But, everybody likes to stay put by having one bag for all needs whether its a business meeting, a casual day out or all in one," says co-founder and CEO Mr. Saif Taj on the inspiration behind the project. "No bag has ever been made before with a simple thought that gives an advantage of having a multi-purpose Clutch + Folio + Laptop bag. This geometry sets us apart."
Inspired by high fashion clothing designs that leverage apparel technology today for the most comfort and support, the KNOTTY ClutchBag is equipped with 14 'Knice' Features, plus the world's lightest and slimmest design that makes it sleek, stylish, and convenient with any outfit.
Available to launch in 20 different designs, the ClutchBag is the world's first portable clutch bag of its kind that not only looks sleek and fashionable, but is also highly organized and compartmentalized so wearers can use it for work, laptops, play, and even dates. Each product is made of the finest premium cow and buffalo leather as well as shiny synthetic leather finishes.
"Every brand in existence today treats bags as either fashionable and fun or professional and boring. There is no in-between. You have to come home and change your folio or work bag for something like a clutch that is more appropriate when you go out on the town. There's no bag that is able to do it all for you, from just one structure," adds designer Mrs. Tazeen Saif. "That's why here at KNOTTY, we wanted to do something about it. We didn't believe that work and play needed to be so obviously separated. Why not bring everything together with a multi-functionality that makes the entire day easier?"
KNOTTY is currently live and available to support on Kickstarter: https://www.kickstarter.com/projects/knotty/knotty-clutchbags-truly-inspired-by-clothing-designs-0
About Knotty Studio
At Knotty, our line of products is 'Rare & Distinct' in its finest form, Artistic Craftsmanship, Beauty and most of all Practical Functionality. The Appealing, Constructive & Exquisite work defines our integrity and originality from the regular, traditional clutch or bag in the market. For more information on Knotty please visit www.knotty.studio
###
Contact Info:
Name: Chris Woods
Email: Send Email
Organization: KNOTTY Studio
Website: https://www.knotty.studio/
Source URL: https://marketersmedia.com/more-than-just-another-accessory-the-knotty-clutchbag-is-a-multi-faceted-bag-dressed-to-impress/88947875
Source: MarketersMedia
Release ID: 88947875