Laneway Resources is an emerging Australian resource development and mining company with projects primarily targeting gold in Queensland and New Zealand.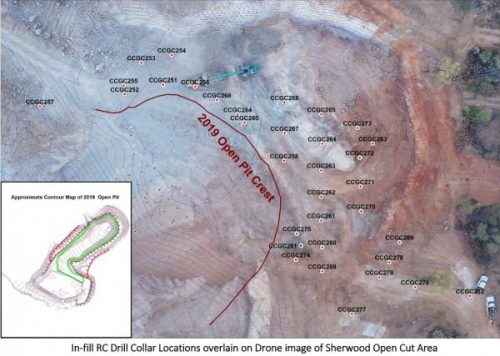 Cleveland, Australia - July 29, 2020 /PressCable/ —
EXTRACT from the Laneway Resources announcement on 27th July 2020… share price as at 27th July 2020 – AUD .009 cents
Announcement: Laneway Resources Limited is pleased to advise of further encouraging high grade gold assay results from the recent drilling program and the ongoing progress towards recommencement of mining operations at the high grade Sherwood deposit within the 100% owned Agate Creek Gold Project in North Queensland.
Highlights – The RC drilling program has now been completed with 34 drill holes completed for 2,068m of drilling. Assay results have been received for a further 15 drill holes and confirm the potential for an increase in the planned mine area. Results from the remaining 14 drill holes are due in the next week.
Significant assay results include:
CCGC261
5m @ 5.80 g/t Au from 27m &
1m @ 40.64 g/t Au from 36m &
7m @ 15.08 g/t Au from 59 m including 1m @ 54.72 g/t Au
CCGC270
2m @7.16 g/t Au from 28m &
3m @ 5.72 g/t Au from 36m &
2m @ 26.91 g/t Au from 76m including 1m @ 51.74 g/t Au from 77m
CCGC274
3m @ 5.69 g/t Au from 46m
CCGC275
3m @ 5.88 g/t Au from 34m
CCGC257
2m @ 6.41 g/t Au from 44m
CCGC260
2m @ 4.96 g/t Au from 35m
The drilling program has been planned to assist in finalising the pit design and with the intention of increasing the delineation of high-grade ore able to be mined this year to over 30,000t.
The completion of drilling and blasting on the initial cut back of the existing open pit as previously reported has allowed complete access for the finalisation of drilling, and a good starting point for mining moving forward.
Once all assay results are received and evaluated, an updated pit design and mine plan will be completed. Finalisation of mining contractor, ore transportation and processing arrangements will occur after finalising the pit design and mobilisation of a contract mining fleet will then be able to commence.
Commencement of mining of ore is being targeted for late August with ore transport & processing pursuant to a toll treatment agreement through a third party CIL processing plant expected to commence shortly thereafter.
The expected significant positive cash flow from this mining campaign will continue to provide a sound financial platform for the Company to progress its project portfolio including additional exploration and appraisal of the broader Agate Creek Project.
Other activities are also continuing to be progressed with a view towards the longer-term large-scale development of the project. Infrastructure upgrades, monitoring, modelling and procedures have also been implemented to allow for the collection of baseline environmental data and studies, which will be utilised moving forward as part of the expansion of on-site activities as Laneway continues the development and planning for large scale mining activities including on-site processing at the Agate Creek Project.
The long-term aim for the Agate Creek mine is for conventional on-site processing of the larger commercial grade Mineral Resource of 471,000 ounces of gold that has been defined at Agate Creek. Additional potential toll treatment of high-grade ore will continue to be targeted in the shorter term to provide additional cash flow to fund significant further exploration for the company without further requirements for equity capital raisings.
Further details of the Mineral Resource estimates for the Agate Creek Project are contained in the Company's Announcement of 30 January 2020. – see Investor/announcements at www.lanewayresources.com.au
Contact Info:
Name: Roger Glasson
Email: Send Email
Organization: RHAZ
Address: PO Box 988, Cleveland, QLD 4163, Australia
Website: http://www.lanewayresources.com.au/
Source: PressCable
Release ID: 88970489