Kayser Intimates,Sleepwear, Underwear, Socks returns to Canada in an exclusive distribution agreement with Montreal's Créations Cindy Ann Inc. delivering the utmost quality, affordable comfort of family soft intimates, underwear, sleepwear, socks for men, woman and children. Créations Cindy Ann presents Kayser your inner Love.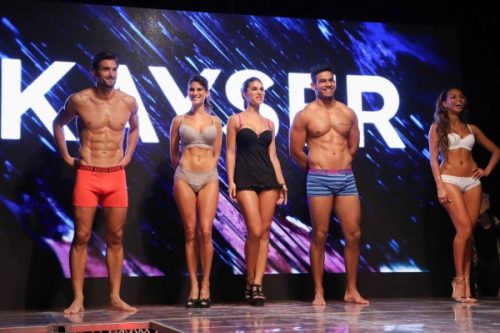 Montréal, Canada - December 4, 2017 /PressCable/ —
Créations Cindy Ann Inc. and Kayser, who designs, manufactures and distributes soft sleepwear, underwear for men and children, socks, and delicate lingerie for woman, announced a strategic exclusive partnership in Canada.
Kayser, established in New York City in 1908, is now the exclusive partner in Canada with Créations Cindy Ann Inc. of Montreal. Featuring a growing collection of women's lingerie and day-wear from basics to elegant all-over lace, the range of styles meets the challenging demands of consumer buying trends including sleepwear, socks, hosiery, and underwear for men, women and children. This partnership will enable Créations Cindy Ann to offer Kayser designs created at the 220,000 sq. ft Kayser Design and Logistic Center in Santiago, Chile throughout Canada.
The 2018 Kayser Runway Fashion Show can be seen here: See Kayser 2018 on the runway here.
The partnership will incorporate Créations Cindy Ann Inc. performing consistently at the forefront of the Canadian fashion industry, and Kayser Global Initiative. Cindy Ann has a long-standing reputation for being of service delivering the utmost quality and comfort of intimate garments to the Canadian consumer via retail boutiques and department stores across Canada since 1985.
As part of a long-term strategy, the two companies can look forward to opening anchor flagship stores in Montreal and Toronto to support the retail, wholesale, and online business. When asked about the new joint venture, CEO Randy Aziz from Créations Cindy Ann, Inc. states, "My team is grateful to re-introduce Kayser intimates, underwear, sleepwear, socks, and hosiery from this family brand back into Canada. Kayser and Cindy Ann both are family owned companies. The mission of both companies is family first. Our products are specifically designed with the entire family in mind. From the ground up, both companies design with the intention of providing a harmonious product to share family time together. Canadians will enjoy the original prints, soft delicate fabrics, outstanding quality and affordable price points Kayser offers to retail partners across Canada."
Ace Ross of Kayser is also excited about the venture, "Once one becomes fearless, one becomes limitless!" The union of these two companies is an outstanding opportunity to make a shift in Canadian retail intimate diametric. The Kayser marketing team in Santiago, Chile is in accord on a global scale with their targeted market, creating effective social media, print, television, and in-store point of purchase materials to support the team's retailers, distributors and franchisee profiting partnerships with the Kayser Global Initiative in 44 countries. Any smart retailer will take a look at this opportunity."
Current and future customers are invited to learn more about the joint venture and how they will benefit by visiting the website coming soon at Kayser Canada Website.
For further information in Canada, contact Mark Turk, Tel: 514/ 385-4000 mark@cindyann.ca.
For further information about The Kayser Global Initiative, franchise, and distribution available possibilities please contact Sherwin "Ace" Ross 213/ 884-8448
ace@kayserinternational.com
Contact Info:
Name: Mark Turk
Email: Send Email
Organization: Créations Cindy Ann Inc. / Kayser Canada
Address: 1400 Rue Antonio Barbeau , Montréal, Québec H4N 1H5, Canada
Phone: +1-514-385-4000
For more information, please visit http://www.cindyann.ca
Source: PressCable
Release ID: 273227