Innovative lifestyle brand, Mello, introduces the Mello - Personal Melatonin Diffuser, a portable all-natural melatonin diffuser to combat the prevalence of sleep deprivation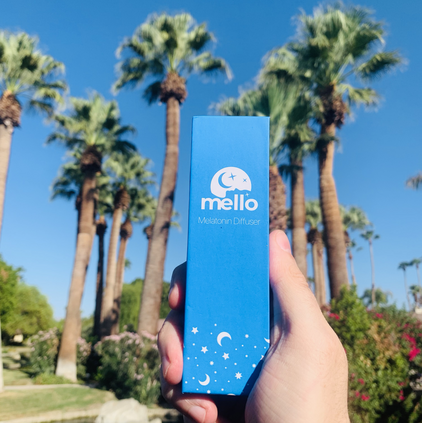 September 30, 2020 — Mello is all-natural melatonin contained within a slim diffuser that was inspired by the desire to make all-natural sleep aids available to as many people as possible. The product has been identified to deliver a faster and longer-lasting effect than traditional edible melatonin, helping users to fall asleep seamlessly without having to break the bank as seen with other products on the market.
Sleep deprivation remains a major phenomenon that affects millions of people. Several factors have been identified as causes of this debilitating condition. While a number of proposed solutions have emerged over the years to help people achieve sound sleep, such resources seldom bear fruit. According to recent statistics, over 85 sleep disorders are recognized by the American Sleep Disorders Association, affecting more than 70 million Americans, with up to 30% of Americans having symptoms of insomnia. Consequently, Mello is looking to make quality sleep accessible to as many people as possible with the introduction of the Personal Melatonin Diffuser.
The Personal Melatonin Diffuser contains all-natural melatonin to deliver the benefits of melatonin to users. Founded on the grounds of convenience yet uncompromising efficiency, the disposable and compact Mello offers portability and quality, with effectiveness on the same level of traditional edible melatonin.
In addition to containing all-natural melatonin, Mello also includes lavender and chamomile, delivering an amazing blend of the science behind melatonin and aromatherapy to consumers.
Mello has quickly become the toast of thousands of people across the globe, with accolades coming from different quarters. "Mello has helped me get a good night's sleep reliably and consistently. I've been using melatonin gummies for some time now, but with Mello, I've noticed these advantages: I'm able to fall asleep quicker, the flavor is great, and I no longer need to worry about gummies sticking to my teeth/cavities. Highly recommend this to anyone having trouble falling asleep," said David S.
For more information about Mello and how to get a hold of the sleeping revolution, please visit – www.sleepwithmello.com and Instagram.
About Mello
Mello was founded as a solution for the millions of people struggling with insomnia, allowing them to enjoy the benefits of melatonin regardless of their location, without requiring them to pay through their noses.
Contact Info:
Name: Jon
Email: Send Email
Organization: Mello
Website: http://www.sleepwithmello.com
Release ID: 88979244