WolfeSmiths celebrates the launch of new property & superannuation investment consultancy. Further information can be found at https://www.wolfesmiths.com.au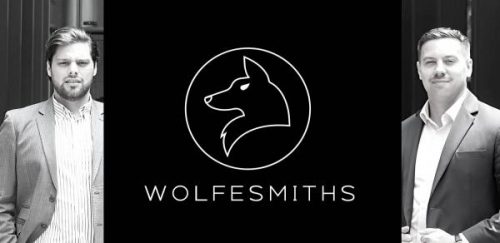 Toorak, Australia - February 12, 2020 /PressCable/ — WolfeSmiths, a property investment and superannuation consultancy, launched recently as the brainchild of Daniel Wolfe and Nick Smith—two experienced investment professionals. Daniel and Nick have partnered to bring a unique approach for Australian investors looking to maximise their property and passive income goals.
A superannuation, property investment and property development company, WolfeSmiths is based in Melbourne, VIC but services clients all over Australia. The company opened in 2019 to help people capitalise on exciting property and superannuation investment opportunities. However, the "official" launch of this enterprise will take place at the start of February, 2020.
"While WolfeSmiths is not the only business offering property and superannuation investment advice, what makes us different is our focus on the individual and our straightforward approach. I think most mums and dads want to prepare for their future but don't know where to start or who to trust. We really want to lift the veil on the industry, provide open advice and make it clear to people that we are real, the advice we give is what is best for the client, and we want people to succeed. We are two normal, young guys you can relate to, with a passion for living life on our terms. If you look at our social media you will see US. Warts and all! I think that is what the industry is missing. Property and superannuation are important vehicles we use to help our clients earn a passive income and live life on their terms" Nick Smith said. "People are choosing WolfeSmiths because of our belief that preparing for a financial future is one of the most important things in a person's life – behind family and health."
While most investment companies tend to offer an impersonal, cookie-cutter approach that provides investors with options that don't suit their unique situation. WolfeSmiths' mission is to buck this trend by providing a real and raw approach to investment advice. They aim to offer an approach that everyone can understand.
Their strategies include high-growth superannuation investments that offer more transparency, property investment research and acquisition and property development opportunities. Their professional network of affiliates can help with financial planning, finance and accounting.
The WolfeSmiths launch will be celebrated by offering an obligation-free property investment and/or superannuation investment consultation valued at $990. The consultation will demonstrate to first time and experienced investors how to take advantage of investment packages tailored toward their individual financial situation.
"We wanted the WolfeSmiths launch to be celebrated by offering an obligation free investment consultation," said Daniel Wolfe, Co-Owner and CEO. "This consultation will be to understand investors' situation and goals and then show first time and experienced investors alike, how they can take advantage of strategies tailored to their unique situation. Through the launch of our new services we will be focusing on property investment, property development and superannuation advice."
Daniel and Nick have been advising and consulting in property and superannuation investments for over 14 years combined and have helped 700-plus families to invest successfully.
WolfeSmiths can be found at 8a Trawalla Ave Toorak VIC 3142.
Further information about WolfeSmiths and their new property investment, development and superannuation consultancy can be discovered on our Facebook page at https://www.facebook.com/WolfeSmiths/ or our website at: https://www.wolfesmiths.com.au
Contact Info:
Name: Daniel Wolfe
Organization: Wolfesmiths
Address: 8A Trawalla Avenue, Toorak, VIC 3142, Australia
Website: https://www.wolfesmiths.com.au
Source: PressCable
Release ID: 88944931