Media Freeware has launched a random number generator which can be used for everything from bingo to dungeons and dragons to the lottery.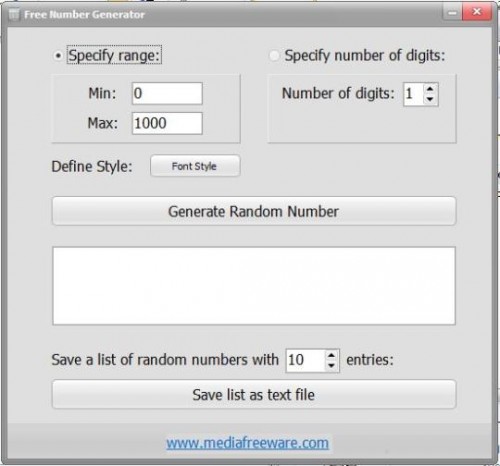 New York, NY,, United States of America - - January 8, 2014 /MarketersMedia/ — Numbers, though often enigmatic or even downright problematic, are the foundation of much our lives, and physicists would argue they describe the entire universe. Most people however have less profound uses for numbers, but still upon occasions find themselves needing to generate a random number, which can be difficult for individuals who often fall back on their established numbers like birthdates and even pin codes. To help with this, Media Freeware has created a free to use random number generator that can generate a number according to one of many adjustable criteria.
The number generator has an easy to use and intuitive interface system that allows users to select the range from and to a given number, the number of digits used in the creation of the number, and allows users to generate random numbers which can be taken individually or compiled into a list, which can then be exported as a text file.
The software is free to download from Media Freeware, CNET and other major resource centers for freeware, and has a complimentary unlimited usage license so users needn't ever worry about running down a trial period or paying for premium features. The software is the easiest and most effective way to generate random numbers quickly.
A spokesperson for Media Freeware explained, "The random number generator is simple and easy to use and limited only by one's imagination. It can be used for a wide variety of purposes where neutrality is of the utmost importance and can help with anything from magic tricks to secret Santa allocations. The software has been designed so that users can have it downloaded, installed and active within moments and uses very little processor resources so can be active in the background even when gaming or shopping online."
About Media Freeware:
Media Freeware specialize in the creation of easy to use software that is free to download and install for all. The company is well reviewed by user and regularly sees its software syndicated to the most trusted software sites on the internet. The company was formed by software development specialists with a passion for developing free software solutions to everyday problems and challenges. Most recently they have created a Random Number Generator.
Contact Info:
Name: Rob Stabile
Email: Send Email
Organization: Media Freeware
Phone: 212.219.3286
Website: http://mediafreeware.com/free-name-generator.html
Source URL: https://marketersmedia.com/media-freeware-offers-random-number-generator-for-unbiased-and-unpredictable-results/30061
Source: MarketersMedia
Release ID: 30061