Media Freeware has launched a Random Name Generator that allows individuals to generate male and female names from around the world.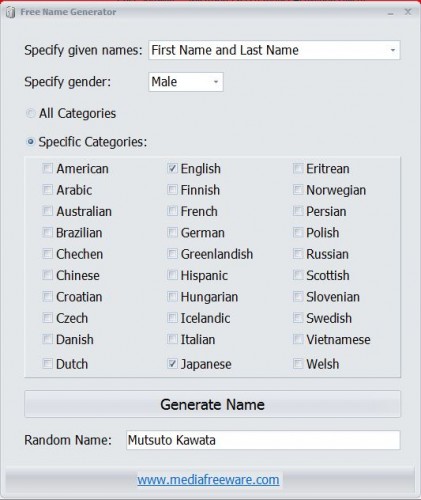 New York, NY,, United States of America - - January 8, 2014 /MarketersMedia/ — Inspiration comes from the most unexpected places. That's why it pays to look outside the box when it comes to important decisions. There are few decisions more important than naming a child, and for those seeking inspiration in can be difficult to decide on a name that they feel will give their child the right start in life. Media Freeware has addressed this issue by creating a new, completely free to use random name generator software that allows users to be presented with choices from a directory of thousands of names without having to scroll through them one by one.
The Name Generator has an intuitive and easy to use interface that allows individuals to select the sex of the child as well as the source of the names, with cultures from around the world available to select. Users can even select whether they want first names or last names, so that authors looking to create characters from cultures around the world can create authentic surnames as well as providing birth names to parents.
The software is free to download from the Media Freeware website as well as CNET, a major resource center for freeware. The software comes with an unlimited usage license so users can generate as many random names as they like.
A spokesperson for Media Freeware explained, "Names are important because they follow us for our entire lives and are used to define us in the memories of our loved ones and the media alike. Equally, the fashion now is to get away from traditional names like John and toward more expressive names that tell a story in a word. That's why we've created this name generator, which allows users to look at names from all over the world to decide what they want to call their child. It's also an invaluable tool for authors when creating a rich and diverse cast of characters."
About Media Freeware:
Media Freeware regularly release new free to use software which is syndicated on major resource centers including CNET and SoftPedia. They enjoy an excellent reputation and reviews with their product users. The company was formed by software development specialists with a passion for developing free software solutions to everyday problems and challenges. Most recently they have created a Random Name Generator.
Contact Info:
Name: Rob Stabile
Email: Send Email
Organization: Media Freeware
Phone: 212.219.3286
Website: http://mediafreeware.com/free-name-generator.html
Source URL: https://marketersmedia.com/media-freeware-creates-random-name-generator-to-help-parents-and-authors/30056
Source: MarketersMedia
Release ID: 30056