Media Freeware has created streamlined software which has the single function of telling users what the sales tax is on a given amount by hitting a single button.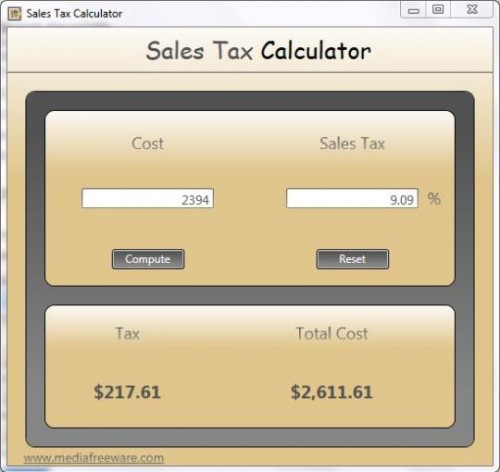 New York, NY,, United States of America - - January 8, 2014 /MarketersMedia/ — Products are still sold without the addition of sales tax unlike European countries, this can sometimes lead to a nasty shock if the consumer does not calculate the sales tax correctly.
Most people do not wish to have to compute the calculation for sales tax amounts in their head or even with a calculator but still wish to know the amount of sales tax. Media Freeware has created a free sales tax calculator that allows users to find the solution with just one click.
The tax calculator requires users simply to enter the amount of the product and hit 'calculate' to be presented with the amount of sales tax, which they can then add to the original value to get the total amount. The software thus makes it easier than ever to accurately calculate sales tax without having to move through the steps of calculating relative percentages.
The software is free to download and use and comes with an unlimited license so users can calculate sales tax on a potentially unlimited number of items. The software is available now from the Media Freeware website as well as on major software centers like CNET.
A spokesperson for Media Freeware explained, "This software is designed to all but eliminate the frustrating process of trying to calculate sales tax, which even if you know how to do it quickly becomes a frustrating grind and moreover a waste of time, when our software can generate the answers instantly. It is sure to make lives easier across the country and can even be used by sellers on behalf of customers to quickly give them the full cost upon request."
About Media Freeware:
Media Freeware are specialist software developers who create easy to use software that they make freely available via the internet. The company enjoys excellent product reviews from users and critics alike. Their software is also regularly syndicated by CNET, SoftPedia and other freeware resource centers. The company was formed by software development specialists passionate about addressing everyday problems and challenges. They now created a Sales Tax Calculator.
Contact Info:
Name: Rob Stabile
Email: Send Email
Organization: Media Freeware
Phone: 212.219.3286
Website: http://mediafreeware.com/free-sales-tax-calculator.html
Source URL: https://marketersmedia.com/media-freeware-creates-free-sales-tax-calculator-with-simple-single-button-interface/30064
Source: MarketersMedia
Release ID: 30064