Media Freeware has created a Bible Dictionary tool in order to help those reading the Good Book make sense of the arcane language used.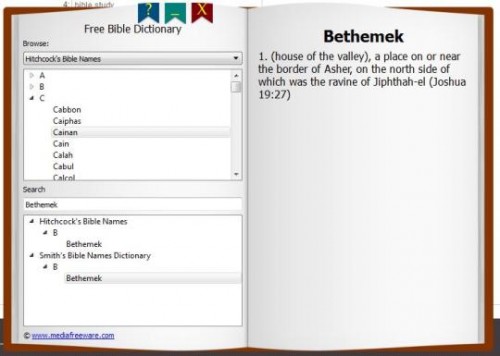 New York, NY,, United States of America - - January 8, 2014 /MarketersMedia/ — The Bible is the most popular and best-selling book on earth, and has been in print since the invention of print. Indeed, the Gutenberg printing press was first used to print the Bible. However, language changes at a more rapid pace every yearand as a result ancient words used in the time of King James (who first translated the Bible into English) have fallen out of common usage. For those wishing to discover the definitions of these words, often found nowhere but in the Bible itself, Media Freeware has created a free to use Bible Dictionary tool.
The Bible word dictionary includes a list of words from A-Z as does any other dictionary but also provides handy lists of all men in the Bible, all women in the Bible and a list of definitions of Biblical Themes. It also has a search bar so individuals can simply enter the word they have come across to see a quick and free definition.
The free bible dictionary can be downloaded directly from the Media Freeware website or from major resource centers like CNET and SoftPedia. It takes just moments to download and install and uses very little RAM, so can easily operate in the background while other programs are running.
A spokesperson for Media Freeware explained, "The Bible is one of the most important books in the world, and that makes understanding what it says especially important. The most fundamental element of understanding the Bible is understanding the specific words used. Our Bible software allows individuals to read definitions of the words in the specific context used in the bible, supported by historical references where appropriate. These definitions are presented in plain English so that everyone can understand them, and begin to penetrate the truth that is held within the pages of the world's most influential text."
About Media Freeware:
Media Freeware are a company dedicated to developing free to use software solutions answering commonly occurring everyday problems. The developers at Media Freeware regularly develop and publish new software which is often syndicated through respected resource centers including CNET and SoftPedia. Their latest product is a dictionary defining terms found in the Bible.
Contact Info:
Name: Rob Stabile
Email: Send Email
Organization: Media Freeware
Phone: 212.219.3286
Website: http://mediafreeware.com/free-bible-dictionary.html
Source URL: https://marketersmedia.com/media-freeware-creates-bible-dictionary-to-elaborate-on-the-meaning-of-words-in-the-bible/30074
Source: MarketersMedia
Release ID: 30074