The 28th annual Jazz Plaza International Festival in Havana Cuba featured Jimmy Sommers saxophonist as a special guest. Jimmy Sommers' travel and performance was organized and arranged by Marysol Travel Cuba, a foreign-owned travel agency offering full service Incoming Tour Operator services in Cuba.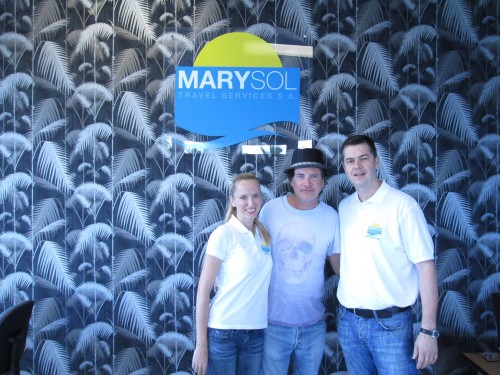 January 3, 2013 /MarketersMedia/ — The 28th annual Jazz Plaza International Festival took place December 20-23, 2012 in Havana Cuba. For 28 years now, the world's most renowned jazz artists have come together to celebrate jazz music in the capitol of Cuba. This year, the Jazz Festival in Havana featured Jimmy Sommers saxophonist as a special guest.
During the Festival, Jimmy Sommers first performed in the "La Zorra y el Cuervo" Jazz Club, followed by another act in the Havana Jazz Café, and a Jam Section in Hotel Melia Cohiba where he jammed with Cuban celebrities like Oscar Valdes, co-founder of the Irakere and lead musician of the Diákara band, as well as Jorge Luis Pacheco, Alejandro Falcón y Cubadentro, Achy Lam y Afrocuba, Carlos Averfoff and Wil Campa. Jimmy Sommers' visit to Cuba and his jazz performance was one of the top news stories in Cuba as evidenced by a featured cover announcement in the Cuban Daily newspaper Granma.
Jimmy Sommers' travel and performance was organized and arranged by Marysol Travel Cuba, one of the few foreign-owned travel agencies offering full service Incoming Tour Operator services in Cuba. "We were very pleased to work with Jimmy arranging his trip. We are most proud of being able to organize his performances with Oscar Valdes and other famous jazz musicians. We also organized sightseeing trips for him where he learned more about the history of Cuba and its people." said Tamas Nagy, sales director of Marysol Travel.
"Marysol Travel did an excellent job putting my trip together. They paid attention to every detail and made my stay in Cuba comfortable and memorable. It was a truly unique experience" commented Jimmy Sommers.
Travel to Cuba is now becoming a reality not only for celebrities but also for all US citizens. Licensed travel is now available, and US citizens can travel to Cuba legally under a license of the OFAC. Marysol Travel Cuba offers quality special-interest programs to Cuba, such as Eco and Nature trips, educational travel, architectural tours, art travel, photo travel, cultural and artistic events, conferences and festivals. All these trips are in line with the current US travel policy to Cuba, providing a great opportunity for US citizens to explore the culture and people of Cuba legally.
Catering specifically to individual and group travelers' needs, Marysol Travel Cuba organizes complete travel packages throughout Cuba or in combination with other Caribbean destinations as a multi-destination vacation. Covering all touristic possibilities, every detail is attended to personally, from accommodation and travel, to entertainment and business. Through their extensive portfolio of clients and associates Marysol Travel Cuba offers the widest range of premier services available –from business trips to luxury travel, as well as leisure vacations to bachelor parties.
"Our core values are authenticity and professionalism. Our international management assures that our service lives up to international standards, meanwhile our local staff provides local knowledge and direct connections to all areas of tourism in Cuba. Our Representation Office in Havana guarantees that we personally take care of every detail locally." – said Tamas Nagy.
Specializing in Destination Management, Marysol Travel's professional travel agents organize everything from reservations, transfers, car rentals, domestic flights, and guided tours – to guarantee a perfect, care-free and safe travel to Cuba.
Every week Marysol Travel launches new Special Interest Tours, such as the Unesco World Heritage tours, Nature Tours, National Roundtrips, as well as Birdwatching, Trekking, and Private Roundtrips with flexible itineraries and driver-guide service. Marysol Travel can organize special Architectural Tours, Art Explorer Tours, Photography tours, Culture and Nature tours, Religious Travel, Biosphere Reserves Tours where they can accommodate specials requests such as sightseeing with old American classic cars or visiting the Robaina Plantation where visitors can get acquainted with the process of making the legendary Cuban cigars. Most of Marysol Travel's tours qualify under OFAC regulations either via a General or Specific License.
http://youtu.be/k453LhEtRS8
Contact Info:
Name: Tamas Nagy
Email: Send Email
Organization: Marysol Travel Cuba
Phone: 941-306-3990
Website: http://www.particularcuba.com
Source URL: https://marketersmedia.com/marysol-travel-cuba-organizes-jimmy-sommers-jazz-festival-performance-huge-success-for-us-jazz-and-great-opportunity-for-us-citizens-to-travel-to-cuba-legally/2833
Source: MarketersMedia
Release ID: 2833