MarketersMEDIA and Vertical News Network (VNN) will be entering into a long-term distribution agreement to expand outreach and engagement for their digital press releases.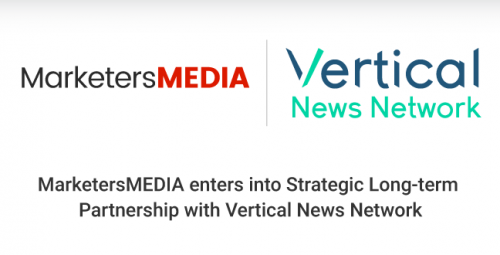 New York, United States - April 3, 2018 /MarketersMedia/ — MarketersMEDIA, a leading press release distribution platform for SMEs announced today that it is entering into a long-term strategic partnership with emerging mediahouse Vertical News Network (VNN).
This agreement comes after MarketersMEDIA has garnered positive results on the two press releases that were distributed to test the search visibility of the 198 authoritative media websites under VNN. Returning results were more than satisfactory and published in a MarketersMEDIA blog post.
"I am extremely pleased with the results, not only did VNN manage to established meaning to a nonsensical keyword and create impression, they were also able to outrank other competitors in the first page," said Daniel Tan, the Founder of MarketersMEDIA.
This means a business can go from being invisible in the highly competitive online environment to gaining maximum exposure through using VNN services in the long run.
Before the officiation of this partnership, MarketersMEDIA has been testing the service by distributing content and press releases to the networks under VNN since September 2017.
"So far, our customers are loving the distribution to VNN," said Daniel. "It has even added a competitive edge for us and won a sizeable amount of customers from our competitors who don't have VNN in their distribution network."
Through the partnership, content and news released via MarketersMEDIA services will reach all 198 authoritative media websites under VNN, in addition to the existing news and media venue including Reuters, Associated Press, CBSNews, Boston Globe, and 400 more media endpoints.
"Our customers have so many great options and as a result, much higher reach when it comes to releasing PR with MarketersMEDIA. We need to make sure that we keep ourself competitive, innovative and able to deliver what customers want and that is a growth in their visibility,"
About MarketersMEDIA
MarketersMEDIA is a leading news and press release distribution company that has an exclusive distribution agreements with Reuters. It also distributes timely information to worldwide news and media agencies and outlets including Associated Press, CBS, Fox, NBC, ABC, New York Times, Comtex, Factiva, Reuters and 400 more media endpoints.
About Vertical News Network
Vertical News Network, otherwise known as VNN, is a media house that operates a portfolio of authoritative media websites creating premium content for both special interest and broader audience. Their channels are involved in six different verticals including world news, business, science, sports, entertainment, and travel.
Contact Info:
Name: Karryn
Email: Send Email
Organization: MarketersMEDIA
Website: https://marketersmedia.com/
Source URL: https://marketersmedia.com/marketersmedia-enters-official-partnership-with-vertical-news-network/323437
Source: MarketersMedia
Release ID: 323437