Mark White Fine Art releases the 2014 exhibition schedule.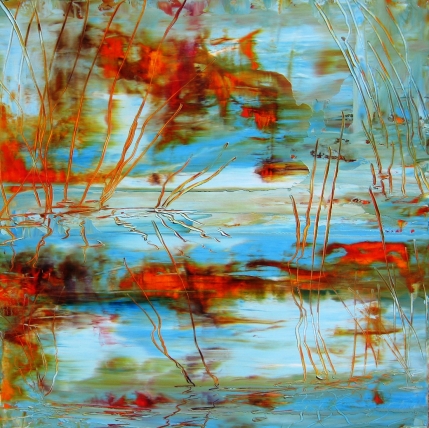 Santa Fe, NM,, USA - - January 3, 2013 /MarketersMEDIA/ — Famed Mark White Fine Art on historic Canyon Road just released their highly anticipated 2014 Exhibition Schedule. The gallery will host a dynamic combination of various mediums, styles and forms. The season will commence with an exhibition that will feature Mark White's reflective oils on panel, then Javier Lopez Barbosa and jd Hansen will team up for a show of contrasting artistic elements, and lastly, Charles Veilleux and Ethan White will bring the season to a close with a joint show featuring textural paintings and engraved aluminum pieces.
Mark White's acclaimed Reflection Series has been likened to Monet's world-renowned Water Lilies. Art enthusiasts have not only drawn parallels between the reflective elements found in each artist's compositions, but also the tonality. In both Monet's Water Lilies and Mark White's Reflection Series, there is a general subdued nature that bursts to life with electric hues that pop forward. A greenish blue watery scene awakens with pops of floating fuchsia, and the serenity of cerulean blue is pierced with rippling crimson – a rush of color that energizes the entire scene. Mark White's show is called "Reflective Moment" and will take place from May 23, 2014 through July 7, 2014.
The abstract expressionistic works of Javier Lopez Barbosa will be displayed alongside jd Hansen's bronze sculptures for the second show of the season, which will run from July 11, 2014 through August 25, 2014. Barbosa's oil/mixed medium on canvas works are soul stirring. No matter the color scheme Barbosa employs, whether it's patches of purple next to golden yellows and bordered by piercing turquoise, or a monochromatic theme enhanced by hits of red, there is always a climactic point – a place that pulls the viewer in. Sculptor jd Hansen's enigmatic bronze pieces are striking echoes of her very soul. Hansen infuses palpable emotion and insight into each of her compositions. The tilt of her subject's head or the curvature of a back is more telling than one would think. This show is sure to stir deep thought and an emotional response from all who attend.
The exhibition season will culminate with a show featuring the textural paintings of Charles Veilleux and the engraved aluminum with patina works of Ethan White. This show will run from August 29, 2014 through September 28, 2014. Veilleux has an affinity for the natural world. His textural paintings pay homage to the mystery of life. From the bold emergence of a flowering plant from a sundried desert-scape to the fluttering solo flight of a birdlike being, Veilleux has a keen sense of the mystery of nature and displays that mystery in an original manner. Ethan White's engraved aluminum pieces are evocative and provocative all at once. His wife, a dancer, is the subject of many of his compositions and each one is marked by a distinct fluidity and grace. This show is not to be missed.
Mark White Fine Art is located on Canyon Road in Santa Fe, New Mexico. Visitors are welcomed by Mark White's signature kinetic wind sculptures and are granted an inimitable journey through art and motion that continues as they cross the gallery's threshold. Built in the 1700s, the gallery houses many mediums presented in new and exciting ways. Works by Javier Lopez Barbosa, Ethan White, Charles Veilleux and Mark White fill the gallery walls; and sculptures in bronze and stone by jd Hansen and John Kessler round out the inside. Take a virtual tour of the gallery and read about the gallery's latest happenings here: http://www.markwhitefineart.com.
Contact Info:
Name: Charles Veilleux
Email: Send Email
Organization: Mark White Galleries
Address: 414 Canyon Road, Santa Fe, NM 87501
Phone: 505-982-2073
Website: http://www.markwhitefineart.com/
Source URL: https://marketersmedia.com/mark-white-fine-art-announces-2014-show-schedule/29033
Source: MarketersMEDIA
Release ID: 29033