Lot Near You has created a service that allows individuals to search for local matches to their shopping needs, making it easier than ever to search the EBay website for the best local deals.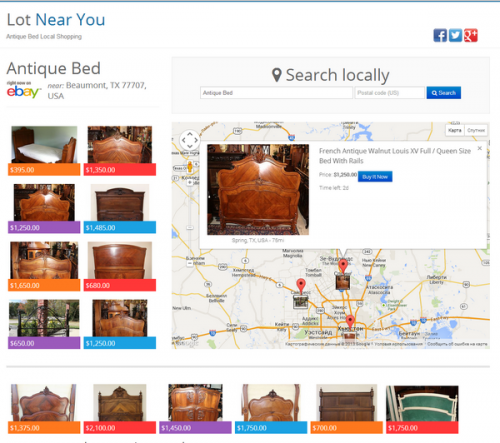 San Francisco, CA,, United States of America - - December 2, 2013 /MarketersMedia/ — EBay is a powerful tool for commerce, but users often find their search results saturated with cheap deals from overseas providers. This means that attractive deals in fact come with brutal shipping costs that make the investment far less cost effective than it may first seem. Lot Near You aims to resolve this and many other issues EBay users encounter by offering a local EBay search service, that promises to show users pertinent results according to their proximity, rather than their price or popularity.
The new approach allows users to Shop Locally on eBay, and simply asks users to enter their zip code alongside their search terms before the Lot Near You software will process the EBay results and show them on Google Maps, giving their exact location so users can collect from the vendor directly and save on shipping by simply driving down the road.
The website also features some of the best deals around America and geolocates these so that users looking not for specific items but for local bargains can quickly filter through the best offers curated by the site and find gift ideas, luxury items and more. By utilizing EBay Local Search, users are able to redefine the way they use the service.
A spokesperson for Lot Near You explained, "EBay is an amazing resource for individuals trying to source things cheaply, but many people would prefer to buy items, especially those of high value, from their local area instead of relying on Chinese dealers to ship internationally. Our site allows them to do this, and to support their local economy by doing so. Many users may buy something from out of state or abroad when someone has the item down the street and they simply didn't see it in the search results, and we solve that problem."
About Lot Near You:
Lot Near You is eBay local search service. Users can just enter their zip code and a keyword to search for, and the Lot Near You service finds the best offers in the local area. Found items are marked on an interactive map so, users can visually assess the item's location and select the distance acceptable for travel and collection.
Contact Info:
Name: Joe Bragg
Organization: Brandoutreach
Phone: (415) 632 1664
Source URL: https://marketersmedia.com/lotnearyou-com-launches-geolocated-ebay-search-service-to-help-users-shop-locally-on-ebay/27209
For more information, please visit http://www.lotnearyou.com/
Source: MarketersMedia
Release ID: 27209