Living Alpha is a new website created with unique tools and features to help people discover their dreams, and then pursue them to unleash their Inner Alpha potential.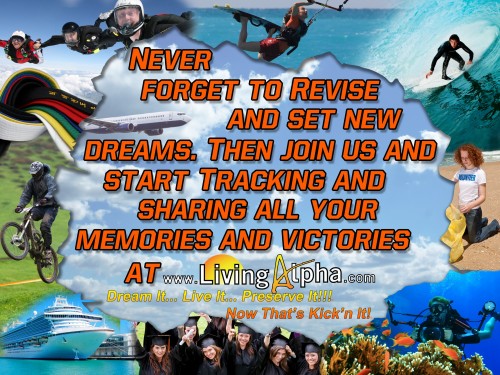 Pompano Beach, FL,, United States of America - - May 7, 2014 /MarketersMedia/ — The saying goes that every person has at least one book in them. In the 21st century, there is an increasing shift toward a culture where we are defined not by jobs or social classes but by what we are passionate about and engage most with. Living Alpha is a new tool that helps people dream big and live bigger by creating a system of inspiration and motivation to channel and nurture ambition within a supportive and likeminded community. Living Alpha is after all; Living with an Adventurous, Loving, Positive, Healthy Attitude.
First of all, they have a "how to" type planner under their 411 Dream Search and Dream List Management Tools to help people note down their dreams in seven key areas of their lives drawn from the Maslow's Hierarchy of needs, so they can exceed themselves at all levels of their lives, be it Financial, Personal, Spiritual, etc. The Dream Search then allows people to discover the key milestones or goals they should aim for in order to achieve those dreams.
After achieving their dreams or other memorable moments, the 3 in 1 Journal Entry System with unique sharing and privacy levels helps people set down and control exactly what they enter on the site and who gets to see it, so they can chart personal progress then publicize when they hit major milestones. The 3 levels, which can be set on a post by post basis, are Global for the whole world to learn from, Friends and Family for more personal details and photos, or Completely Private and "for your eyes only".
It even has a super Carbon Copy feature that allows individuals to add friends' events and accounts to their own profile as a permanent entry and vice versa, increasing the social networking scope of the tools and is great for sharing moments with family members that could not attend or when a friend has forgotten their camera.
A spokesperson for Living Alpha explained, "Our readers and users can also request a copy of our FREE "Secrets to Accomplishing your Dreams and Goals in 11 Easy Steps" e-book, which explains in detail how to go about living your dreams and then recording them for the world to see. Living Alpha is all about enabling people to be the best version of themselves, providing the tools and processes to create meaningful achievements and then share them with their most valued friends and family or tell the whole world about it."
About Living Alpha: Living Alpha has a commitment to excellence, and seeks to provide the best products and services on behalf of a noble mission: to make the world a better place. In doing so, we empower people to develop their full "Inner-Alpha" potential, which is the first step towards realizing the highest possible goals. Dream It, Live It, Preserve It: these three principles are the unifying themes of Living Alpha, and enable people to connect with one another, share experiences, and alleviate the fear of the unknown.
Contact Info:
Name: Alan McBrearty
Organization: Living Alpha
Phone: 9547822300
Source URL: https://marketersmedia.com/living-alpha-launches-to-help-people-dream-big-and-achieve-those-dreams/43422
For more information, please visit https://livingalpha.com/
Source: MarketersMedia
Release ID: 43422