There is the fact that proof reliably delivers higher conversion rates, lower cost per acquisition and increase audience trust as well. Understanding, LetX team has launched a new product named LetImpact which supports marketers to create social proofs in minutes using.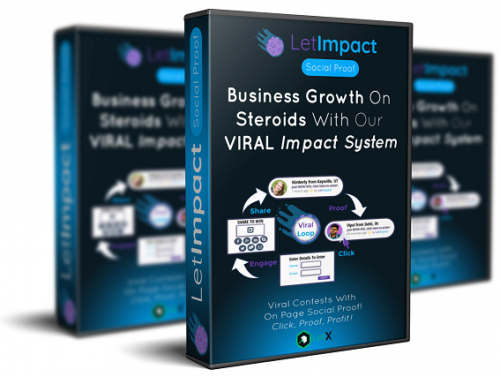 October 3, 2017 — LetImpact is the new web-based application that enables marketers to add social proof to their pages in order to increase audiences' trust and conversions. Users can build their contest pages within a few minutes using its viral campaign builder and displays call-outs to convert any visitors who lands on their page.
See the demo of LetImpact here
Here are some outstanding features that LetImpact web-based application offers:
Marketers can use viral contests feature to put their list building automatically with viral contest pages and social proof. It allows them to customize their contest pages with background choice and color settings that match their branding.
With the time settings feature, users can choose the time to display the call-out and how much time passes between two call-outs. After editing the call-out as the way they want to show, they can use the call-out preview feature to see the results directly in the preview window.
Moreover, LetImpact will capture all the data that the visitors enter including name, email address, geographical location, the exact time of activity and set the status for a record. In case users choose not to display the records on their site as per their discretion, they can manually disable certain them. Once they switch off the record, it will no longer be displayed.
Users can check out the LetImpact Reporting feature to analyze any campaign includes the number of visitors to their pages, records tracked for display in their call-out notifications or clicks on their notifications during their campaign. Thus, they can optimize their running campaigns.
Besides, users can use the call-out click enticer to maximize their click performance on their call-out notifications or use the Image Editor feature to entice their page visitors to click notifications. They can choose to put a play button on their call out, simply doubling their click-through rates when applied.
A more powerful feature of LetImpact can be found on when clicking here.
One more special thing is that LetImpact works well in all browsers, devices and it is proven conversion. The call-outs inside this software are shown on mobile phones, laptops, tablet or desktop.
All in all, the LetX also team offers users several bonuses. For instance, users are able to join the VIP Facebook group which enables them to connect with like-minded Facebook and email marketers, agencies and other LetImpact users. The WordPress plugin bonus is included for easy integration of their LetImpact version which allows them to simply download the plugin and upload it to their WordPress site. The LetSocify is a Facebook notification tool will help users deliver notifications right into their users Facebook notification inbox.
According to Todd Bradley, an online entrepreneur:"Excellent Viral Upgrade in LetImpact. Thanks for adding real value. The viral concept and its use are crucial in my business model, as we lead with some amazing value!"
The concerned reader may figure out more specific information on LetImpact review and bonus.
Contact Info:
Name: Gerald I. Smedley
Email: Send Email
Organization: Uzumaki & Assistants Corp.
Address: 1176 Lowndes Hill Park Road
Phone: 415-277-4030
Website: https://crownreviews.com
Source URL: https://marketersmedia.com/letimpact-the-brilliant-web-based-application-that-helps-users-maximize-their-click-performance-on-their-call-out-notifications/245721
Source:
Release ID: 245721