If you are in search of a new product allows you to increase traffic and conversions on Facebook without the need for expensive ads, LetClicks software is exactly what you need.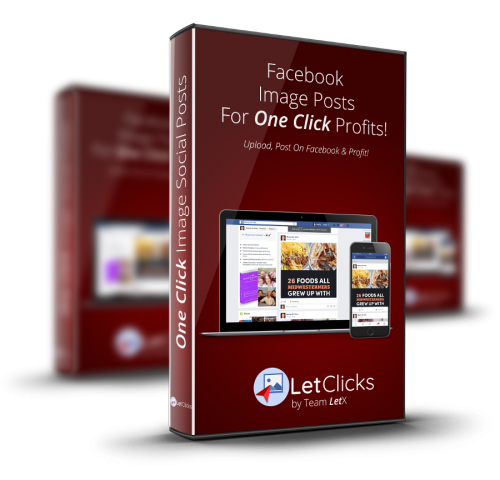 June 9, 2017 /MarketersMedia/ — LetClicks is a web-based application that allows Facebook users to upload pictures, including GIFs, and publish them on Facebook without the need to write lengthy descriptions. Image Posts appear as a large square post on Facebook, encouraging followers to comment or take action. These posts are eye-catching as well as hard to be ignored because they fill the whole screen on your smartphone or laptop.
Click here to see LetClicks review and demo.
A recent study showed that Facebook posts with images witness 2.3X more engagement than those with no image. URL posts with pictures, have nearly double the reach than normal image posts. LetClicks app allows marketers to build links that Facebook will display as perfect squared picture links, making the images clickable and ready for maximum reach, likes, shares, comments, engagement, and clicks.
The software also comes with an Image Editor that facilitates users to make perfect squared images. Whether users want a blurred background based on the image they have picked or a solid color, it is up to their decision.
As soon as marketers have made their picture URL as well as inserted their redirect link, they are ready to post their image. However, in case marketers wish to make use of the same image once more with another redirect link, the tool will help them clone any of their picture links that they have built and use it again and again.
Moreover, users are given the power to monitor their LetClicks posts and check out the total number of clicks they get on their image URL posts. Users can view the efficiency of their picture post and adapt as well as adjust based on click performance.
If marketers would like to manage any of their projects, LetClicks software offers them the capacity to make pools of links that they can combine together. As a result, marketers are enabled to view the performance of their image posts across their picture upload campaigns.
The application allows users to build LetClicks picture link that redirect to full-screen YouTube videos. By doing this, users can set the video to autoplay after the LetClicks image URL is clicked.
Once purchasing the software, users will also get their very own image collection. Users can include images from their desktop or simply make use of the "Fetch Image From URL" feature.
More powerful features of LetClicks soft can be found on their official site when clicking in here.
The product also allows marketers to add their pixel for max retargeting. LetClicks enables them to include any pixel they selected to include with their image post. Therefore, marketers can monitor post clicks and retarget users that have clicked on their images with targeted advertising campaigns.
Moreover, the greatest part about this application is that it enables marketers to make GIF video posts without any difficulty. They can use GIF posts for promoting their products, or products from other sellers. In addition, marketers are able to use it for any niche, even if they are interested in Amazon products, video marketing, email marketing, software, ads conversion, website conversion, SEO tools, make money online, offline, review videos, real estate, doctor, fitness, dog training, finance, etc.
For more details, you could see LetClicks app review and bonus.
Contact Info:
Name: Gerald I. Smedley
Email: Send Email
Organization: Uzumaki & Assistants Corp.
Address: 1176 Lowndes Hill Park Road
Phone: 415-277-4030
Source URL: https://marketersmedia.com/letclicks-has-launched-a-cloud-based-system-that-helps-marketers-get-more-traffic-and-conversions-on-facebook/206472
For more information, please visit https://crownreviews.com
Source: MarketersMedia
Release ID: 206472