LunarPhase Pro is an astronomy software tool and moon calendar for Moon Observers and amateur astronomers that provides a range of information about the Moon, its movements and behavior. The website showcasing the software has received a facelift and an affiliate program has been added.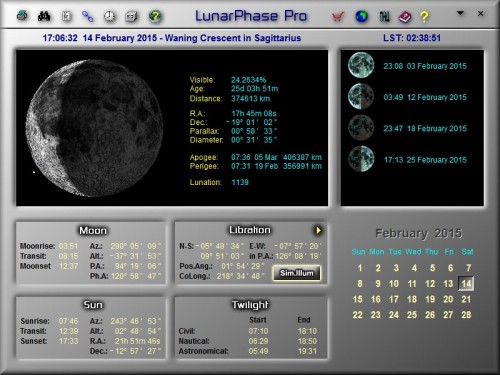 Dublin, Ireland - February 24, 2015 /PressCable/ —
The addition of an affiliate program to LunarPhase Pro's revamped website allows anyone to sell the software through their own website or via other online means. To support the burgeoning Bitcoin protocol, potential customers now have the option of purchasing with that cryptocurrency.
LunarPhase Pro was developed by Gary Nugent for the Windows platform. As much an educational tool as a prediction tool, the software is used by a wide audience aside from amateur astronomers – many teachers use it as a teaching aid and the software is also used by military personnel, stockbrokers, hunters, gardeners and it's even a good astronomy tool for kids.
According to developer Gary Nugent, "LunarPhase Pro has been written with the observer in mind and is very easy to learn and use. Its simple, yet powerful features will provide you with the information you require to make your Moon observing sessions more fun!"
The affiliate program will be of particular interest to webmasters of astronomy and science themed websites and astronomy clubs and societies who could bolster society/club funds through sales.
The increase in light pollution around the world due to better street lighting and sprawling metropolises has had an impact on the hobby of astronomy, making it more difficult to see faint stars and celestial objects in the night sky. The Moon, being the second brightest object in the night sky, is not a victim of these neon-glow skies and so has become the object of choice to view for an increasing number of amateur astronomers.
The Moon's movements are complex, from the changing phases of the Moon to different daily rise and set times along with many other phenomena. LunarPhase Pro provides this information and also includes an interactive Moon atlas so users can learn their way around the Moon and the various features on its near and far sides.
The software has been in continual development for several years and is one of the most popular applications in its niche.
A short video detailing the software's features is available here: http://youtu.be/16rum_fvGxw
About Us: LunarPhasePro.com (and the LunarPhase Pro software) was created by Gary Nugent who wanted other amateur astronomers to be able to appreciate the Moon and to educate people about Earth's nearest neighbor.
Contact Info:
Name: Gary Nugent
Email: Send Email
Organization: Novasoft Ltd.
Website: http://www.lunarphasepro.com
Source: PressCable
Release ID: 75610